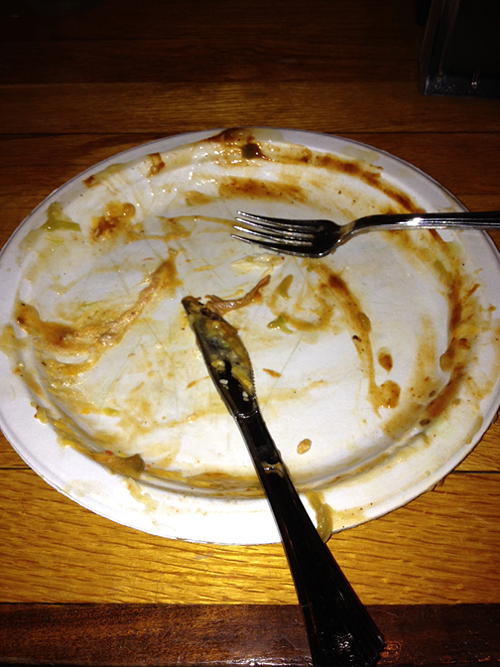 Remains of the big Pelewski. Curious? Read on. Courtesy – Joel Hays
"Hey Joel. Come with me," stated our guide, Dave, with a head nod upstream. "I've got something REALLY cool up here."
Upstream was an alder/willow tangle that hung over the far bank of the San Juan about 6 feet. It's lowest branches were inches from the water with one dead branch (of course right upstream of the dark, shaded run) sticking straight down to the bottom.
"There's usually a big brown at the head of that small run," Dave said as he clipped off my double nymph rig, "with a couple of nice rainbows right behind him."
My leader was lengthened to 10-12 feet of 6X and a #16 Puterbaugh caddis was added. THEN two feet of 7X and a #20 Griffith's gnat. A double dry dropper rig? WTF?
"OK. Here's what you gotta do. You can't get any closer than 40 feet and those rocks up there won't let you get anymore upstream. You've got to throw a low, sidearm cast with an upstream mend (in the cast). It's gotta be UNDER the willows but don't get wrapped in the stick. And make sure your leader has some slack."
"Uh huh."
This is what you pay for when you hire a guide. That and the private water access to a mile of the upper San Juan (water that had seen few anglers that month). And this access ended up saving our trip.
Colorado has been in one of its worst droughts in recent memory. Depending on which part of the state you're talking about, the story is something like this . . . a warm May sped up the melt/run-off and then sparse June rains dropped river levels by the fourth of July. Hatches and patterns were accelerated and by the time the usual "monsoon" rains started in mid-July, they could not help the slim water levels. Good spots got hammered quickly and rising water temps. sent the remaining fish to the bottom to sulk.
Conventional wisdom in this situation says either fish a tail water or go high/off-trail to find fish that are unmolested. In late July, word from Colorado was that all the tail waters were low AND crowded and that the southwest part of the state was at least getting rain. I was staring at the calendar with the dark revelation that this would be the first year in 41 years that I had NOT been to Colorado in the summer. A new position at school and a hectic schedule had put me in a desperate situation. Luckily, an abiding friend (who came up with cheap airfare to Durango) and an understanding wife (about the be abandoned with an energetic four-year old on a blazing hot weekend) led me to the tarmac of La Plata County Airport and 72 hours to find fish.
The initial impression wasn't pretty. The Animas through town (usually a good bet) was chocolate milk from a rare morning storm. As we drove 160 east to Pagosa Springs, drainage after drainage was low. We pulled off on the Piedra at sundown and found low, warm water. Although a marginal caddis hatch was coming off, nothing dimpled the surface – the river was as good as dead. I managed one skinny 9" brown that could hardly bend a three weight. Things were not looking good.
The next morning we fortified ourselves at Higher Grounds Coffee and headed out of town and up to the Williams Creek drainage. Same story – different day. The water was low, mossy and warm (I was wet wading and was perfectly comfortable). Every other drift and I had to clean the moss off my nymph rig. I finally switched to a soft hackle wet and caught a few fish but nothing spectacular. We decided to hike down into the "canyon" stretch to find fish that were not as beat down. Beautiful scenery but again, tough conditions. Even though hoppers sprang from underfoot with each step, no fish would rise to anything we had. The only fish I could manage were on a #16 soft hackle caddis emerger fished with no "dropper" fly or strike indicator. Tough!
That evening, after a wonderful diner at Kip's (one of the major reasons I continue to return to the Pagosa area). We decided to hit the San Juan through town. I usually don't like this because it so weird. Waiting for tubers so you can work a run or reeling up to move downstream because some kids just jumped in the pool you're working. BUT, there were rumors of 20"+ fish taken recently and we were quickly getting desperate. The river was about half of it usual volume for early August. I managed a few fish and one nice stocker but it was not the experience I was looking for. At one point, I had to wade out and help a woman that had "grounded out" in her tube. She was flopping like a turtle on its back and it was obvious that her ass was stuck in the tube. By this point I was getting cross and fought the urge to free her by slicing the tube with my knife. She thanked me (I thought) a tad too much and volunteered that she was too stoned to be on the river. Time to head back to the bar.
To be continued …
Category: Colorado Report, Destination Fly Fishing, Fishing Reports