NOTE – I went on a long run along the keyboard the other evening, writing a story for a magazine before I read the specifics of what they were looking for. Therefore, this is of no value to them, and no cost to you. When everything else fails, read the instructions! Their loss is your gain (how's that for ego!). Honestly, it's fairly a decent snapshot of Texas fall fly fishing, and if there are details left out – I know you'll fill them in. ALSO – we have a good deal of information forthcoming from Joel Hays, on his trip last month to Southwestern Colorado. You know to tune in for Joel's articles for detailed information backed by decades of experience fly fishing and guiding in Colorado and Texas.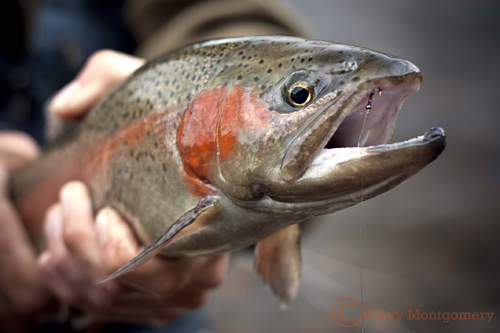 Broken Bow, Oklahoma, rainbow trout. Photo Courtesy – Dusty Montgomery
FALL FLY FISHING BACKCAST AND FORECAST
Summer carp action is winding down on North Texas lakes and creeks, and as temperatures begin to cool, fall patterns begin to take shape on our lakes. That can mean good largemouth bass action as the cooler waters encourage movement in search of baitfish gathered in lake coves, and even the occasional schooling crappie and sand bass frenzy.
If you aren't throwing Clouser minnows – shallow and medium running, or Seaducers, then you may be depriving yourself of some great action. Colors include, black, black, black, and okay, the occasional white – with more flash than you normally use, fluorocarbon leaders, and floating lines. Set your expectations high, and consider at least a six weight rod.
Dropping lakes mean productive carp flats disappear into dust, and other flats are revealed that can still be productive in what remains of the hottest midday sun. Stalking carp in the flats, while declining slowly as the days grow shorter, can have its good days even into October. Stick with the most productive flies of summer – bonefish bitters, dragonfly nymph, Egan's headstands, carp crack and the occasional woolly bugger. Toward the very end, carp become increasingly spooky and then virtually disappear for winter. My theory is that the angle of the sun has a lot to do with carp's ability to better see anglers and spook.
While much of Texas, and most Texas rivers are still in the grip of drought, North Texas enjoyed good rains early in the year that helped to keep lake levels higher than usual through the dry summer. Currently North Texas lakes continue to drop, and fisheries that rely on release from lake dams have again been deprived of the water flows that generate fly fishing action.
The Guadalupe River, known for rainbow trout, the Texas State Fish – Guadalupe bass, and other species, has had a tough time in a region at the heart of the ongoing drought. The Guadalupe is the southernmost trout fishery in the US, and Texas fly fishers hope that the fall and winter weather are more forgiving as stocking begins in earnest in late fall. Most Texas fly fishers realize that targeting sensitive holdover Guadalupe trout is a losing proposition for the fish because temperatures make release survival less likely in warm months. Guadalupe River Trout Unlimited continues to invest valuable resources into stocking trophy areas of the Guadalupe River, and just like the Texas Parks and Wildlife's stocking of the river – it (stocking) happens whether flows are high or low.
As bass prepare for winter in North Texas lakes, there's one last blast of feeding and good fly fishing on lakes and ponds, before North Texas fly fishers turn their attention to Southern Oklahoma stocker trout fishing. Living as we do, significantly inland from the Texas Gulf Coast, it's not too far to Oklahoma's prominent Broken Bow or the lesser known Blue River catch-and-release fisheries, which are fisheries stocked by the State of Oklahoma.
It's not uncommon for redeye runs from Dallas to Broken Bow and back – in a single day, just to get a Texas "trout fix." Although the price of gasoline has put a dent in Texas fly fishing travels, we pretty much expect to have to drive away from Dallas – Fort Worth for cleaner less crowded waters.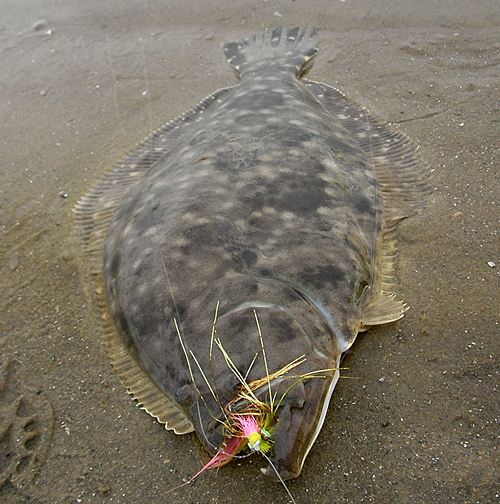 Black Friday flounder caught on Galveston Island, Texas.
In November, one of those Texas drives is to the Upper Texas Gulf Coast to take part in the annual flounder runs that coincide roughly with Thanksgiving. While the fishing near places like Galveston Island is conventional tackle combat-style, there's plenty of room, and sideways glances for a fly fisher casting a neapolitan (hot pink / chartreuse / gold flash) Clouser fly. Strategy for catching the doormat-size flounder is unique and can be unnerving. You'll want to throw at least a seven weight rod, a floating line, and fluorocarbon leader with a ten pound tippet. The areas where flounder are found are shallow slopes, hence the floating line, but sinking fluorocarbon leader. The Clousers are heavy brass/gold meant to sink the fly to the bottom, and drag right across the flatfish. It's a dead slow retrieve with virtually no pause, and there's no mistaking the take. It's fast and hard. Fighting a flounder on fly rod is a unique experience. If you hold your rod tip straight up, you can fight a three-pound flounder all day. If you simply apply sideways pressure, it's over pretty quickly as they lose their angle of resistance. The Texas Parks and Wildlife Department has focused special attention on the Texas flounder, and that has resulted in changing "bag limits" during this time of year, and the overall results have been a flourishing flounder population that harkens back to the earliest days of modern fishing on the Texas Gulf Coast.
All-in-all, there's plenty of fly fishing action to occupy the fall and winter in Texas, and with forecasts calling for a more typical cold and wet winter, things could finally be looking up when it comes to relief from extraordinary drought conditions.
Category: Backcasting, Central Texas, Fishing Reports, Guadalupe River, Gulf Coast Report