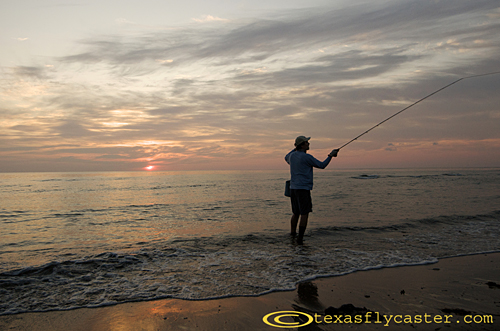 Having missed a photograph of a speckled trout of epic proportions, I suddenly was stricken by the realization that I had to capture some good fish porn to help sell the story.
Maybe it was the large volume of coffee, but my heart started beating just a bit quicker. I decided the remedy would obviously be to fish a bit, maybe catch my own trout, or at least see if fishing would do anything to calm the synapses.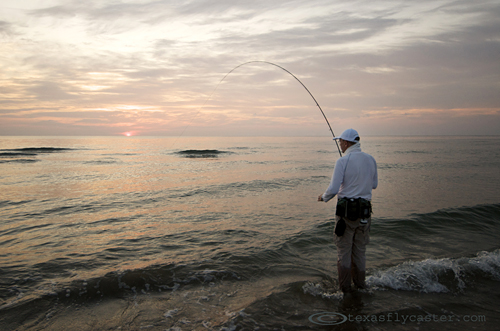 I lined my TFO Clouser eight weight with a floating line, since there were virtually no waves and the maximum depth was no more than four feet no matter which cut I fished. I put on a medium weight hand tied mono leader and a simple green over green Clouser. By the second cast, the Clouser was being nipped at by schools of small ladyfish and one finally got the taste of a number two Mustad Circle hook in the corner of it's jaw. On a rod flex like the eight weight TFO Clouser, the fourteen inch ladyfish bent the rod only to about the third guide, jumping like crazy in every unpredictable direction … from a distance I can imagine I looked like a Mexican vaquero twirling a rope with a waist high loop.
I caught a couple more ladyfish and a hand full of hand sized jack crevalle small in size, but typically large in fight. I could see the crowd growing impatient, and before I knew it everyone was loading up to head up the beach again.
By now the disjointed snake of a convoy had segments that were slithering out of sight of each other, so that there was no communication, and no way of knowing who was into fish and who was still on the move. The sun was up and a typical breeze started onshore.
The herky-jerky progression found me behind a couple of trucks, Toyotas of course, that had a good set of eyes leading the way along the beach and squirming soft sand. Although anyone could see the baitfish, by the thousands and in sum, millions, what Shane Wilson was not seeing were predators chasing the baitfish clouds. So we kept moving.
My excitement was building at the thought of actually seeing the Port Mansfield Cut, a place I had wanted to go since childhood, but never been invited along by my uncle. I had played along these beaches and dunes in raucous high school four-wheel-drive forays. Gas was about 89-cents, I still had to pitch in for it, and we usually had to switch tanks on my friend's Ford – never getting close to the Cut. For the record, there were many, many less miles of pavement back then.
We stopped a couple more times, but with the sun beginning to reveal every detail beneath the water, it was becoming more apparent; there was bait, but there weren't fish – a distinction with a difference. Of course we wet a few lines just to double check our instincts, and were again chased by lady fish and jacks.
Moving again, I could see the distinct curvature of a jetties reaching out into the Gulf at a distance. I really had no idea what to expect, and having only the South Padre Jetties to go by, these rocks were a fraction of the distance in length.
We stopped short, where Shane had the good grace to donate some choice knowledge. While I was looking at the buzz of fishermen along the jetties and along the rocks back into the pass, Shane pointed out a circuit tarpon take, one pointed out to him by Larry Haines, of The Fly Shop in Port Isabel. It made perfect sense, and some of the tournament "contestants" were obviously poised for action in their boats off the stunted tip of the jetties, knowing the same thing.
Much of the crew gathered where we were, with a couple of folks at the jetties. I just had to actually summit South Padre, so after a bit more fishing I went to the jetties. They were so short, I didn't even bother to walk out and instead cast into the pass from the granite boulders. Bait was everywhere, and sparkling in the mid day sun. There was plenty of bait, but again, no obvious predators.
My jetties bouldering was kind of a spontaneous thing, so I hadn't taken the time to boot up and was on a slippery slope. A few more casts, and I was done … climbing up from water level and another boulder, too slippery and a full body slap delivered by a tons-heavy piece of granite – face forward. Pissed at myself for being so dumb, I managed to recover quickly with nothing but a couple of barnacle scratches.
David had been at the jetties awhile before I arrived, but neither he, nor his passenger who had walked back to the bayside, had found fish. So I dropped back to the crew and had some lunch, and fished some more. The wind was approaching normal and clouds were building to the south.
While I was fishing I managed a humorous catch of what would otherwise been another, now slightly annoying, ladyfish. This one was about the same size as all the others, and it managed to, while dangling from a nine foot rod and a short length of line, jump directly away (imagine twelve-o'clock), jump immediately at three-o'clock, at nine and again at twelve. I should have seen this coming, but then it jumped to six, which at our water depth, put him on target for my … a direct hit, and the wind was momentarily knocked out of me.
Tomorrow – The Long and Winding Beach
Category: Events, Fishing Reports, On The Road, Texas Gulf Coast, Texas Gulf Coast