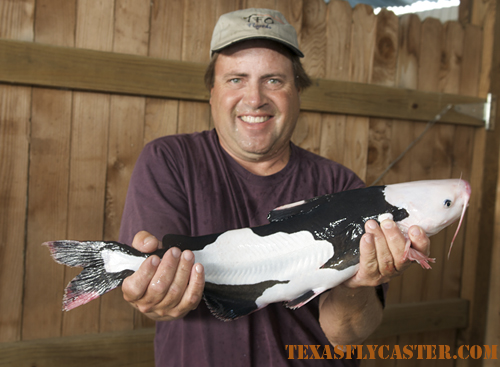 Photography can be like fishing; sometimes it boils down to being in the right place at the right time.
I visited Lake Texoma, Texas, guide Scott Bridgess at his boat house today, ostensibly to take a picture of this strange catfish he caught recently. SB was attempting to facilitate an adoption by either Cabela's or Bass Pro so that people could see this strange, apparently genetically created catfish. What SB found out was that these cats aren't all that uncommon, and unfortunately they (according to potential adoptees) revert to a more natural color pattern once in captivity for a short time. With no takers, I did photograph SB releasing the fish in the marina.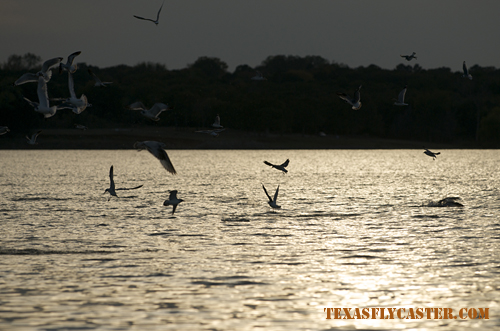 The wind was kicking up pretty strong on Texoma, but after releasing the cat, we hit some spots close to the marina late today. There were birds working bait, and we did see good surface action, as well as what are called "blackouts" on the fish finder. However, it's just a bit more difficult to get to these spirited stripers with a fly rod. I was using one of SB's rods lined with a shooting head, and although it took some adjusting, I was able to catch a couple of small (about 14 inch) stripers.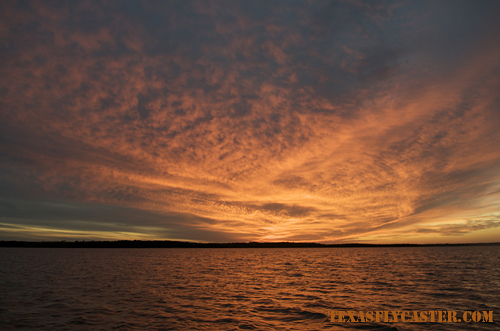 In the end the sunset was the biggest catch of the day. It simply exploded in vibrant orange hues just as we were done fishing, and all we could do was watch as every 30 seconds the hues changed, brighter, wider, finally to grey and it was over. We were at a loss for words as we headed back to the marina, but I couldn't help but think about the profound good luck – visual luck – of an otherwise average day on the water.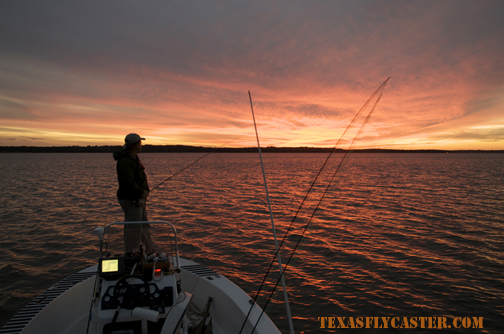 Category: Fishing Reports, North Texas, Photography