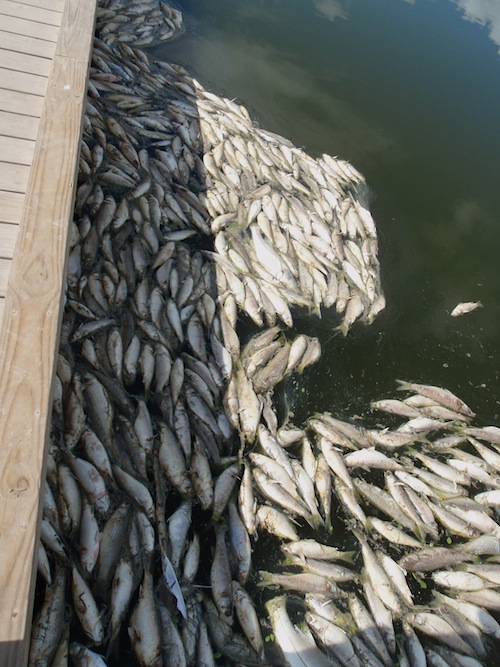 It's what you don't know that gets in the way of good fishing. Little did I know that there is a confirmed red tide bloom on the Texas Gulf Coast. Funny how little bad news gets inland isn't it? Heck, I guess it's that way everywhere. If you didn't already know, would you know that Lake Texoma is under all kinds of warnings – for a blue-green algae outbreak that is extraordinarily dangerous. Call it "Chamber of Commerce" marketing if you like.
FROM TPWD REPORTS
AUSTIN –Texas Parks and Wildlife Department is working with other agencies to monitor a red tide event along the upper and lower Texas coast. The middle coast remains unaffected at this time.
The bloom was first confirmed on Sunday, Sept. 11, when TPWD biologists found discolored water and aerosols characteristic of a red tide in multiple areas of the Brownsville Ship Channel and San Martin Lake.
Analysis of water samples confirmed moderate concentrations of the microscopic algae Karenia brevis, commonly called red tide. The bloom has subsequently caused fish kills along nearly seven miles of Boca Chica beach, the southern end of South Padre Island, Bahia Grande, South Bay, San Martin Lake and various locations within the Brownsville Ship Channel.
On Thursday, Sept. 22, biologists from TPWD and the Texas Commission on Environmental Quality responded to reports of dead fish and respiratory irritation in the Freeport area. A fish kill, accompanied by high concentrations of K. brevis, was found along the beach and inshore along the Brazos River, Intracoastal Waterway, the old Brazos River, and Dow Barge Canal.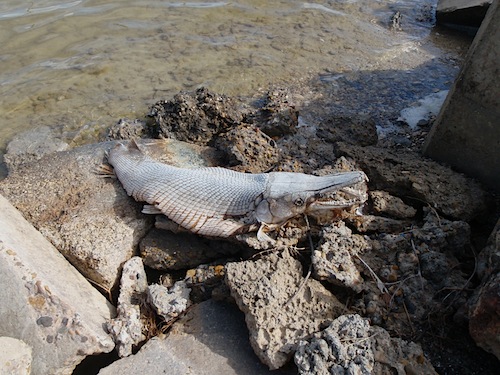 Karenia brevis is a naturally-occurring organism that produces a toxin affecting the central nervous system of fish which causes paralysis and the inability to breath. As a result, red tide blooms often result in dead fish washing up on Gulf beaches. When red tide algae reproduce in dense concentrations or "blooms," they are visible as discolored patches of water, often reddish in color.
The last red tide occurrence in Texas was in 2009-10 and occurred from Boca Chica to Port Aransas. The last red tide bloom in the Freeport area occurred in 2000.
People who are near the water during red tide may experience irritation of the eyes, nose, and throat, as well as coughing, wheezing, and shortness of breath. People with existing respiratory illness, such as asthma, may experience these symptoms more severely. If you have concerns or questions about human health effects of red tide or symptoms you are experiencing, consult a physician.
Updated information on the current red tide situation in Texas, as well as background information on red tide and how it affects people and fish, is available on the TPWD website: http://www.tpwd.state.tx.us/hab/redtide/. You can also get up-to-date information through TPWD on Facebook and Twitter.
Category: Fish Kill, Fishing Reports, Gulf Coast Report, Science and Environmental