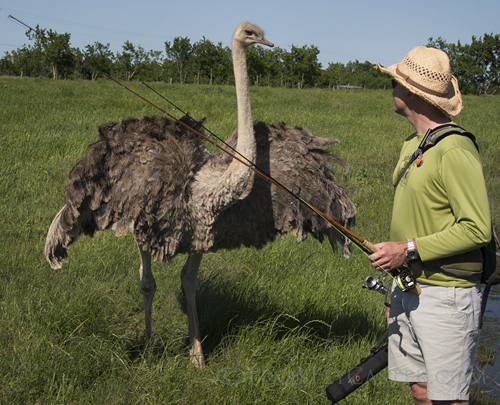 Talk about challenging! Try to remember an ostrich, emu, or yak can show up in your backcast any time.
I stuck my finger in my ears, one at a time, rotated to check for wax and pulled my finger out with a pop. Nope, clean as a whistle. "You need me to tell you what's in your pond?" I could hardly believe my ears.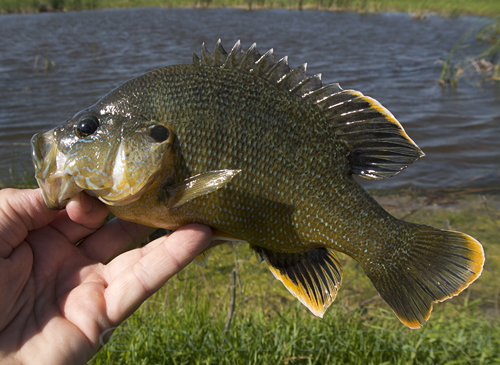 The biggest greenie I have ever caught. Heck of a beautiful fish that can wreak havoc in a pond's delicate balance.
The pond came about as a place for Joe to let his Dad and Granddad wet a line. It has a couple of deep holes and a good amount of surface area. Along the way fish caught elsewhere made it into Joe's pond, but they hadn't been seen in awhile. Thus the mystery that needed solving.
Joe wanted to know what he had and what he needed for his pond. I figured I knew just enough, from paying attention to experts on pond biology and fish stocking, to be able to at least provide an educated guess on what was going on under the surface. The last thing Joe had to report on his pond was that a recent flash flood had come through and left a five pound largemouth sacrificed on a nearby fence.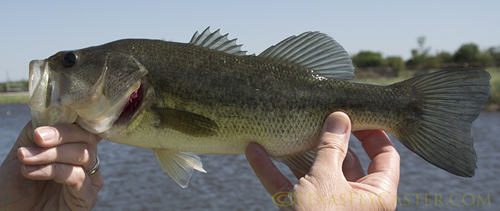 Other than that, there were a few other variables running around in the pasture where Joe's pond is located. A full size ostrich, a flock of emu and a couple of yaks could show up at any time to do quality assessment of my backcast, and didn't mind digging through any bags of gear left on the ground as I wandered off into bliss.
My first trip to evaluate the pond was earlier last week, and I had arrived late in the evening and managed only a few minutes of evaluation once my adrenalin settled from the face off with two friendly feisty yaks. I apologized for having their relatives hair in my fly box, and they calmed down a bit.
My first cast caught a largemouth that ran about a pound-and-a-half, and just about every cast lead to largemouth from six to fourteen inches in length. They all appeared to be males, and they had nice bellies (probably because Joe had several pounds of minnows put in the day before.
Joe told me the water is very clear typically (we were being assaulted by serious winds), and the main water source was drainage from the pasture and in extreme rains – water comes from across the road, down a ditch and finally rushing into one end of the pond. That end was rendered pretty shallow and muddy, but I caught fish there as well.
The clarity combined with the thick green slime along most of the shore, lead me to believe the pond could be suffering from an abundance of nitrogen. Drainage off the homes across the road and the abundance of animal life in close proximity seemed like it could be the cause. In the long run these problems can lead to a fish kill due to oxygen deprivation.
DAY 2
On day two, I was able to take Joel and his son out to Joe's pond, but instead of disclosing all the details, I created a surprise for his three-year-old that he's not likely to forget anytime soon – birds, a camel, deer and a menagerie of animals left him wide-eyed and speechless.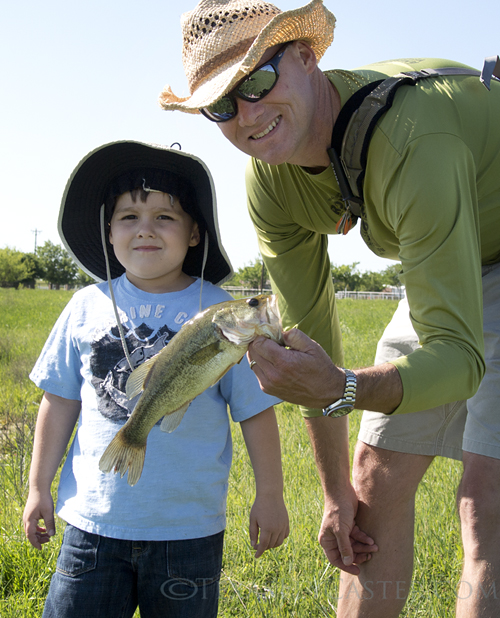 The tough guy look from a proud fisherman.
I knew Joel was needing a fish fix since his promotion to associate principal of his high school, and we all know what a day of catching can do for a three-year-old's outlook on the sport of fishing. Throw in a demonstration of the strength of ostrich eggs (I stood on one), and I am thinking this day will be etched in his memory banks for awhile. Ponds are the cure for all that ails us.
Two fish on the first cast basically set the tone for a frenzy of catching fish, shooing away prehistoric looking birds with evil eye stares, and battling another stiff wind with fly rods.
For Sunday's test, I went to a smaller black woolly bugger in hopes of catching smaller fish that we could learn from as well. Nothing doing. Bass attacked, but I was finally able to filter through them and catch a coupe of huge greenies on that same bugger. The term "huge" may not be scientific, but when I say huge I mean huge. They were larger than the palm of my hand and every bit as hard a fight as any largemouth bass – the largest I had ever caught.
Unfortunately greenies really like to raid largemouth bass beds for eggs and compete directly with largemouth for food resources. Greenies this size could be a troubling thing for the pond's balance, and Joel recommended a future release into grease for any caught.
His assessment included the observation that there were no females caught, and we both realized that the larger bass we caught were actually thinner and more disproportionate than the smaller bass. It's one of those wicked problems that requires some tough love – culling. Fortunately, there are a few ponds on Joe's place, so an aerated bucket would save those unlucky enough to be caught. In this instance a cull wouldn't be a kill, a real best case scenario. There's still the question of the depths of Joe's pond, and before I can produce a final opinion on the population in the pond, I will have to have some calm weather and different options for fishing the depths of Joe's pond.
We hopped aboard Joe's chariot and headed back to the barn where Joe's camel was hanging out. Just another day in the wilds of Texas.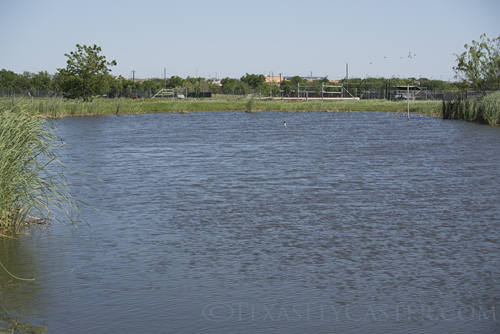 Joe's Pond near Krum, Texas.
Category: Culture on the Skids, Fish Kill, Science and Environmental, TECHNICAL