DISPATCHES FROM THE MIDDLE
The waltz across the well site is just about over. For those of you who have followed along over the years, you know where I've been for the past 40-plus nights, out here in the Middle, the middle of the Barnett Shale working through rain, sleet and snow for that almighty petro dollar.
It's funny how, over time, writing about the Texas Fly Fishing experience here at Texas Fly Caster has been gradually distilled to virtually only writing about fly fishing, and not many of the other experiences that go along with an unusual personal and professional path. That's a distinct difference from earlier years here. 
By now, the vast majority have probably left this story because it didn't lead with fish porn, poetic fall colors, or prose propagated in piscatorial pursuits. Nobody will blame you if you do click on your surfboard and cut a line to another part of the break.
No, this was just another stint out in the Middle of nowhere, but we did have more creature comforts than during past stints. There was a miraculous WiFi connection, a decent trailer and a well that behaved … most of the time. Out here a phone connection, much less a WiFi connection via hotspot are still fairly rare. There's a not-so-rare satellite TV too, one that will rot brains with every channel, of course lacking WFN. A nightmare.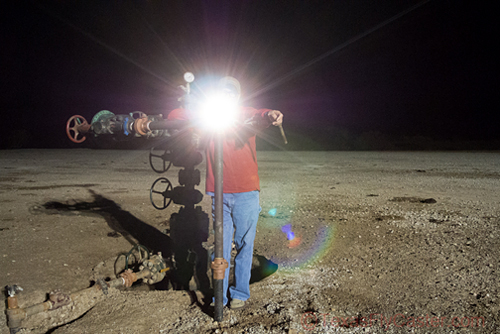 "IT's WHY I AM" – from Big Whiskey and the GrooGrux King Dave Matthews Band
So why would anyone choose to spend time sitting on a well out in the middle of nowhere all night long, bad food, atrophied casting muscles and insomnia? Well, we like to fish right? This is what it sometimes takes just to pay the piper, put petro in the tank and go. And it's going to take a whole lot more of these odd'ish jobs to land OUR feet on any skiff this spring.
Certainly the tide has turned in the US economy, although plenty have been left high-and-dry; it looks like I may get a chance to push my business boat off the mud and back into the water after so many years. At least it "looks like" it may be getting better for the first time in years. Will it actually float this boat? It's just too soon to tell.
A lot got done out here. There were major improvements to the Fort Worth Fly Fishers club website, taking it from a dusty Ferrari in the garage, to a running vehicle (still a little rough idling, but running). That was a fun project, and one akin to a "gift that keeps on giving" with great features that fly fishers are able to enjoy, use and learn from. Keep an eye on their website. There are bigger things in the works there.
I also managed to squeeze out a few Monday Morning Sidewalk Texas Fly Fishing Reports before going to sleep those Monday mornings; documenting the declining weather window, the final demise of North Texas fall, and the shift from warm water pursuits to Oklahoma cold water fly fishing pursuits.
I also found a little time to go by TFO and grab their new fiberglass fly rod several days ago (sorry I have no sense of time). I lined up that rod this evening before coming out to the Middle, and threw a few loops in the yard, slow and easy … I like it.
And in another twist of opportunity, I ended up with an industrial chainsaw in my hand to take a shot at cutting my way through acres of mesquite to another revenue stream. Maybe Xenie (watch "Low and Clear") has it right after all? I have yet to crank it, but we all like power tools, right? So if YOU have need of downed tree clearing, contact me and mention Texas Fly Caster for a special (much higher) rate!
Honestly, there's not a time much better for doing a stint in the Middle – than the fall doldrums. Now, we can leave those doldrums behind, just like this well out here in the Middle of nowhere, and come in from the cold, get back to the other things that matter just as Thanksgiving flutters in and offers us a chance to see family, feast and fly fish.
Thanks for reading! See you real soon in Houston, Galveston and who knows where else!
Category: Adventure, Culture on the Skids, Writing