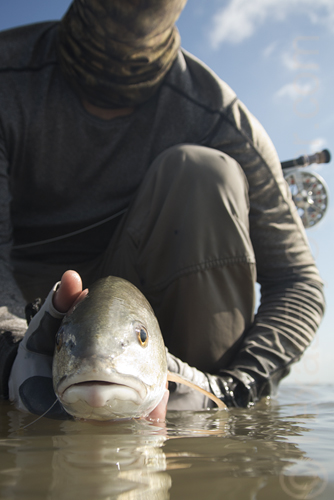 Nice redfish caught on fly by DS yesterday near the SLP, Galveston area, Texas.
Welcome to wherever you are this morning! I have made the rounds since last Wednesday, and find myself in The Woodlands for the Madre's birthday.
How can I explain that being here is a lot like being at Disneyland for a fisherman, and not getting to ride the rides – if you're on a schedule and wrapped up tight with family. We had a grand total of about 20 minutes to fish a closed golf course (closed on Mondays) … and it's off to another event.
Yesterday, I guess, was my salt fix. We launched on the south side of the SLP, and moved out at daybreak on the falling tide. It was a sleigh ride of sorts, as the water rushed out of the marshes. We had some inaccurate tide info to rely on, so once that tide was done going out, the fish were also done eating.
I had zero shots at zero fish that I saw, but that doesn't mean they aren't there. DS, our leader for the day, managed two reds at 21 and 25 inches. He certainly saw them. He also informed me that some photographs I took of several people catching, last year and himself included, are in the latest issue of Texas Saltwater Fishing Magazine. Little Did I know!
Anyway, folks are rushing around here, and it's out the door again for another something-or-other. It is what it is.
Category: Life Observed, Saltwater Fly Fishing Texas