Good morning and I hope you are having a great summer! Blink, and it's almost over isn't it? We finally turned the corner here in Texas, with temperatures breaking through the 100-degree mark last week. I was surprised to find out that this heat takes a bit more out of me than it used to, and the recovery time (a frustrating waste of time!) now takes about a day – for a day on the water.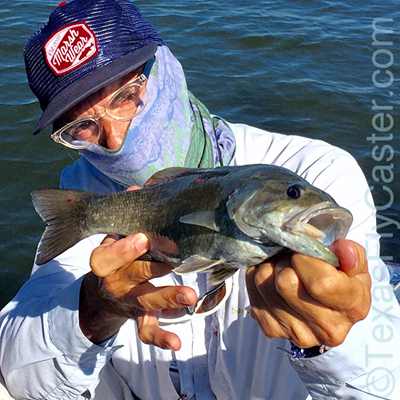 LAKE TEXOMA SMALLMOUTH BASS
That realization came when I spent the early part of Friday on Lake Texoma with a friend and his son. They were prefishing for a tournament there Saturday, and the Dad is a competitive bass fisher who has one of those glitter boats that goes fast, real fast. We went from one end of the lake to the other, with the last run to home being about 20-miles! I was on board to learn about where fish are, specifically smallmouth bass, and help them with their prefish.
I did manage to catch a smallmouth and a few largemouth to help their cause on what was a very calm day for Lake Texoma. That calmness allowed the heat to concentrate hard on us – like a deep basting. The next day? I was pretty worthless. However, the learning will translate well – into how and where to fly fish for smallmouth bass on Texoma. One other observation: We only saw one guide boat on Texoma, and no striper action at all. I'm being told that a huge number of the striper population on Texoma is gone — washed through the dam and now in the Red River below Denison Dam. And we all know what happens once they're in that area below Denison Dam don't we? 
READ MORE – I don't know if fly fishers do this anymore, but they used to "count species" for a set time-period and report the results. Well, this has been a month when it occurred to me that it has actually been a good one for species; redfish, speckled trout, carp, bluegill, blue cat, sand bass, smallmouth and largemouth bass. Not that anybody's counting, but thanks to the fishing gods anyway. I'd love to have and take the time to go fly fishing with Danny Scarborough in Houston right now. He's catching granola, aka. bowfin, on fly, and full-time guiding his client list for the grinnel as well. Check him out at www.houstonflyfishing.com today!
CAN'T STAND THE WEATHER? JUST WAIT …
We have some unstable weather early this week, coming quickly after only a few days of blazing heat. What a relief, but it also throws some unpredictability into our fly opportunities. Pile that on top of needing to finish welding the new fence lines out back, and it may be time to finally put together a new fly tying video. I had the most success with a single fly in Port Aransas, and that was a "redfish crack" fly I tied with a little variation that I think made the difference. And if you search for a video on YouTube on tying a "redfish crack" fly … well, I didn't find a good video on that fly. For me, it's a slow process to make a good fly tying video, one that takes up to four hours to get to the point of hitting the "publish" button.
THE WEEK AHEAD
There'll be another informative post on the Port Aransas scene this week, and whatever else comes my way from the fly fishing scene – there won't be as many days to give it a go with this weather! Maybe the weather will be a factor in that fly tying video (in making it happen)!
Thanks for reading, and feel free to let me know what, if anything, is happening in your fly fishing universe! And feel free to drop a dime in the cup, and read some of the information I gathered on Port Aransas, Texas. It's information that will entice your entire family to come along with you to Port A, and this information (in upcoming stories) will actually save you money!
Category: Body-Mind-Soul, Complimentary Reading, Fishing Reports, North Texas