FLASH FLOODS
It is flash flooding around here this morning, and there is a certain level of danger involved if you are driving around, say from Denton to Lake Ray Roberts. I shot some video before the rains hit this morning – on Ray Roberts, but it ended up being about the rain. So I hope you arrived to wherever you are this morning before the rains washed our weekends away.
I will follow up with a detailed report – where I was today and where the carp are on Lake Ray Roberts — tomorrow at the latest. Time to burn that candle at both ends, until the rain snuffs it out …
FUBAR RR
Lake Ray Roberts was bad, real bad, this past Saturday – due to a bass tournament that was merciless, and uncivil to say the least. More on that later. If there's a tournament on that lake, or qualifier, just write it off – because you're not going to have any fun and the only fish you will catch will be in places where boats can't go — and they are able to go a lot more places nowadays.
SUNDAY FORGIVES
Thankfully Sunday, I had a casting lesson to give a seven-year-old, and a tune-up lesson on double-hauling with his Dad at the same time. It was a very productive lesson, one that actually produced the young man's first fish on a fly rod. Some days are much better than others.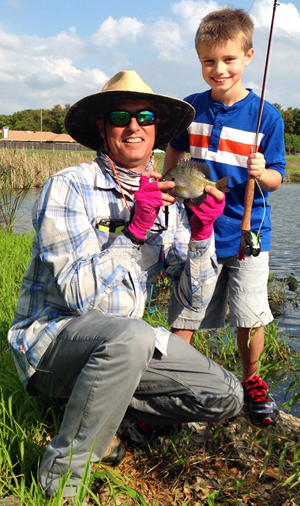 It would be a battle to prove who is more proud of this catch. He still has to get used to holding fish, a lot of them, though!
THIS WEEK
It looks like I am in the midst of the busiest week of the busiest month of the year at this point, and it actually is good timing! The rains look like they are coming through for the rest of the week, and I am constructing an escape plan – to get down to Houston and from there the Salt. Unfortunately, that journey's catalyst is yet another funeral – family this time. Amazing. Simply amazing.
Category: Complimentary Reading, Culture on the Skids