The sawdust is flying on this Monday morning. But that's about the only thing that's flying. My driving wings were unceremoniously clipped a week ago, when my 4Runner's transmission gave up the ghost. The stranding was the only good thing to come of it, as I found myself right here at home with a transmission that suddenly took on a life of its own, and finally coughed its last — on the way to my mechanic. Dead and done. Chock up another $2K for a transmission, bite the bullet and suffer from all the text photos coming from where I was supposed to be headed – Corpus Christi and Rockport. I have no choice but to rub it in, so take a look at what we missed last week: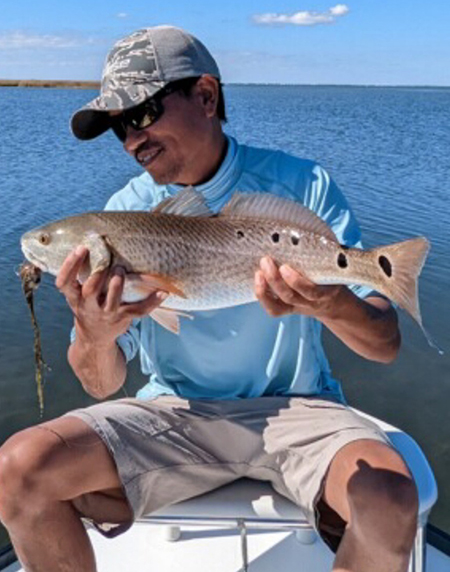 HERE IN THE NOW
Three-dollar gas again? No one home in the Executive Branch of our government? Open up the strategic reserve, and drive those prices down! It works every single time. It's funny; do you think they're listening? We are living in a time when prices spiral upward, and supply spirals downward, a time when demand is chasing supply like a cheetah chases a Texas feral hog. Where it all ends, we know somebody else wins.
FLYING SAWDUST
New molds are being made to take full advantage of the demand for my fly line mats. What can I say, but here cheetah, cheetah! I am thankful the supply of rubber for making my popular fly line mats has never suffered a "supply chain" breakdown, and it never will. But the time is now to retool my original 6X36-inch "The Clint" model and I have tooled a new 6X20-inch model that has securing holes in it for versatility. Both are still in the construction mode, and I anticipate having the new "Clint" and the new "Line Tickler" ready for New Year orders. Rest assured! All mats will still have the "Made in Texas USA" stamp on the back! We've learned from our outsourcing, haven't we?
WEBSITE REVAMP COMING 2022
Over the slowest time of year – these holidays, I will be looking under the hood of this website, making some changes to the way it looks and generally freshening things up a bit for 2022. If you have seen an independent individual's fly fishing website that has any attractive or unusual features – and you like them! – feel free to let me know, and I will certainly consider reader's input as I always do. Make no mistake, it is exceedingly difficult to make changes to something that is working well and highly ranked in search, but that bleeding edge is calling me once again …
RECAP
Losing my trannie was stunning to say the least, not because of the 240K miles it had on it, but because the timing could not have been any worse. It was so bad, I was left wondering if the fish gods had planned this one. Then there's the dollar signs, which were a kick in the nuts and bolts.
SO how do we make up for this lost time, lost opportunity and flushed income? I have no earthly idea, but I heard the fishing was hot at …
Category: Body-Mind-Soul, Life Observed, OFF TOPIC