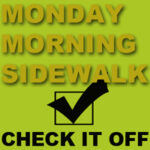 Welcome. WELCOME! It is Monday morning, and this is the Monday Morning Sidewalk. It's where you get to recharge your weary, party-football-watching-fly-fishing-late-sleeping-early-rising-loud-music-listening-book-reading-facebook-lurking-homework-avoiding-drought-flooding mind.
On my mind? How to recharge your energy levels in a State where nearly the whole 268,697 square miles are not fly fish-able. Even the Texas Gulf Coast are taking a hit of freshwater on their collective chin by now. At least the Coast has the ability to recover in short order. Here? The water is now in the park at local Lake Ray Roberts (see the Instagram Feed).
I was looking at a huge radar map on TV earlier today, and there is ANOTHER hurricane in the Pacific, and the bands of it are getting sucked up and blown across Mexico and … right into Texas. Hurricane Willa looks like it will actually impact Texas this week. It's pretty quiet as far as news media focus on US Army Corp of Engineers, and the conundrum they are caught in at the moment – HERE IN TEXAS. Texas floods lead the National news virtually every day last week, and just because it quit raining doesn't mean the ground is suddenly dry. It's soaked. Everything is soaked, so this week is going to be interesting.
If you are a fly fisher who votes, I encourage you to take advantage of early voting in Texas, and find your poling place and cast your vote before the machines are sabotaged by our Russian friends, or the North Koreans we "fell in love" with. If you are a fly fisher? You already know how to vote.
GOING LIVE
We went live with our Texas Fly Fishing Report over the weekend – Saturday morning, and I can honestly say that with nearly 1500 subscribers, we had two people ask valuable questions LIVE as the broadcast was happening. That's exciting stuff to me! So I am pondering LIVE BROADCASTS once a month as a way of getting in touch with the base, who if judging by the two who tuned in and asked questions, which is hungry for the details I tend to leave out on a recorded FLY TRANSMISSION from the Fly Bar. And Saturday morning seems like a perfect time to do these LIVE BROADCASTS. I would encourage the many fly fishing guides – that I promote here – to consider coming on these LIVE BROADCASTS and chiming in about what's going on on their beats. I know it's bleeding edge, but so was Instagram a couple years ago (I've been doing Instagram since 2010), and you see how fly fishing's "trendy" have "found" that media. (Little do they realize – there's no monetary value in it.) And if you think Instagram is time consuming, feel free to turn the page on LIVE BROADCASTS right now!
Have a great week! Be sure to send in photographs – of the flooding in your area, or of fish if you are so lucky as to catch a few! There's obviously a lot of "pondering" going on around here with the end of 2018 in sight, with elections in reach, and with the continuing ride along this narrow road less taken.
Category: Body-Mind-Soul, Culture on the Skids, Event Podcasting, Life Observed, Live Broadcast