If you have been a Texas Fly Caster reader for years, you may remember my fascination with Lewisville Lake Environmental Learning Area, located on the downside of the Lewisville Lake Dam. There are plenty of individuals and groups for which LLELA holds a near and dear place, and they make no bones about it – seemingly elevating it to the emotional status of a Madison River at times. The terms "tailrace" and "tailwaters" are often applied to the water below the Dam, but don't let your imagination run away with you. Talk between the promoters of LLELA, on a now disappeared Texas Fly Fishing Forum, got heated at times because of a large population of conventional fishers sharing the same stocked rainbow trout in the wintertime. It quickly devolved into name calling and racial epithets, all over a place called LLELA. Those days and words are long gone now, and I am guessing we can do the Rodney King thing and "… all just get along." I've said before that end of season catch-and-release at places like LLELA only prolong the suffering of stocked rainbow trout, who if they dodge the slings and arrows we throw, will only die a more agonizing death when the water heats up and their brains boil. Take a good hard look at these fishers walking out with stringers of rainbow trout, and what I see is hungry people.
LLELA features the continuation of the Trinity River from below Lewisville Lake, just as the Greenbelt Corridor and waterway is the continuation of the Trinity below Lake Ray Roberts. In my most recent experiences of both, you will find the Greenbelt to be exponentially more pristine (clean) and primitive. The Trinity below Lewisville Lake is much stronger and wider with flatter bottom features (creating fast moving water over shallow areas) at easily accessible points. It is bounded by beautiful large trees and trails run along the banks, high and low, for quite a ways from the "tailrace." I have seen coyotes climbing the banks of the dam on my early morning drive in to LLELA. LLELA is bounded by a huge population, and development that has compressed a high concentration of nature into a relatively small area. If you get past the fact it's on the DFW Airport flight path, you will thoroughly enjoy the flora and fauna at LLELA.
LLELA is under the purview of a consortium of organizations including the University of North Texas, Texas A & M University, the City of Lewisville and the Lewisville Independent School District. It isn't unusual to see young students with notebooks, test tubes and an instructor leading them into the fertile forest of knowledge.
Now LLELA, as part of the National Public Lands Day, is having a cleanup this Saturday, September 18, from 8 to noon. This would be a fantastic opportunity for fly casters to see the lay of the land, bring the kids out and run them a little, and do some good in the way of digging in new plants and cleanup. Much like the cleanup conceived by (break my arm patting myself on the back) Texas Fly Caster for the Texas shoreline side of Denison Dam a few years ago, this should be a much bigger more organized effort. I would also venture a guess that there will be triple the amount of trash gathered from a much more difficult environment – picking up trash on the rocks of Denison Dam is nothing compared to the glass beer bottles I see rolling down the shallows of LLELA's section of the Trinity River.
Be sure to read more about Texas Fly Caster's experience at LLELA, or try the search or tags for more information. This story came to TFC through other readers, so feel free to make suggestions any time on any events that have such a direct positive impact on fly fishers in North Texas. NOTE – I will be working to bring old video podcasts into compliance with today's standards. You may not be able to view the videos associated with old LLELA reporting.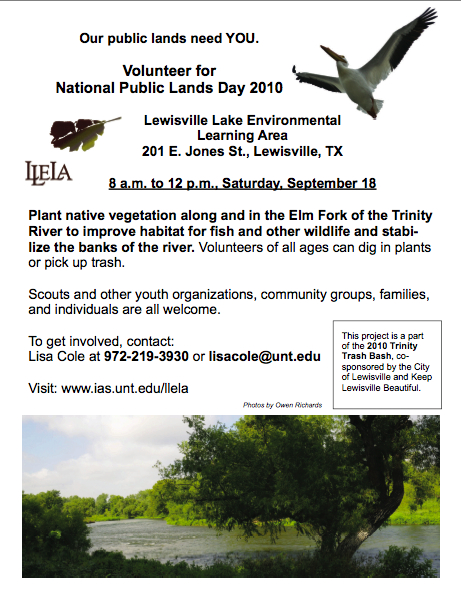 Category: Culture on the Skids, Events, Life Observed, Science and Environmental