There's a new club taking to the waters in North Texas, the the North Texas Kayak Bass Fishing club, and they will launch their inaugural tournament Saturday – fishing at the LBJ Grasslands northwest of Dallas-Fort Worth.
I've been there a couple of times over the years, and my experience tells me that the water could be low, some of the ponds dry, and some overgrown with hydrilla. Nothing like fishing tournament Russian roulette! Those backroads are long, and once you go down one on a hunch, and it's dry, you've just burned a few dollars in gas, and more importantly – tournament time. However, the LBJ Grasslands are an interesting place, with backroads that end up at ponds, and even a pond that is fly fishing catch-and-release only.
One great reason to visit the Grasslands this time of year is to actually note the ponds that have dried up, and write them off for the future. It's not like they are stocked with any regularity.
Another great reason to visit the Grasslands, in this instance, is because these ponds are places you don't really want to go to alone. The ponds are extremely primitive, and it isn't unusual to find strange, strange individuals out there, in the middle of nowhere for no good reason.
Here's what I am gleaning from Texas Fishing Forum:
"For that morning of Aug. 11th
Meeting at: Pick-up Fix-up parking lot at hwy 380 and hwy 287 http://maps.google.com/maps?ll=33.238492,-97.598972&spn=0.000491,0.00114&t=h&z=20
Time: 4:45 am Shotgun start at 5:00 am. and get identifier
Fish any lake in LBJ Grasslands. TPWD laws used while on water.
5 fish total length (mouth closed in pics).
$5.00 entry and 5.00 big bass.
For those who just want to fish and get together you are more then welcome to come out. You do not have to fish club tourney.
Weigh-in at Black Creek park 1:30. 1st club meeting to follow!"
-LBJ Grasslands Lakes only
-Artificials only (yes you guys can throw the A-Rig if you must)…
-One line in the water at a time, fishing only from kayak…
-Human-powered kayaks and canoes only (sorry tubers if you're reading, but we're trying to promote a kayak bass club)…
-CPR only, identifier in pic, in kayak…
-MOUTH CLOSED, TAIL NOT PINCHED OR CURLED, like on KBF. Open mouths or pinched and curved tails will receive two inch deductions… Here's an example of how I might score a fish…
Guys I went out there yesterday and checked out the lakes. Rhodes is way way low. As in, I wouldnt try to fish it low. Black Creek, Cottonwood, and Clear Lake are all a little low but fishable. I put in at Clear and Socks would have beaten me for my efforts last night by a long shot…
Getting to the Pick up Fix ups lot is tricky especially if you're coming from the south as I suspect most will be. FOR THIS REASON I AM CHANGING THE START LOCATION TO THE DAIRY QUEEN PARKING LOT. Heading north on 287 you can't miss it… Coming from 380 you'll have to turn south onto 287 and head back into town. "
Keep an eye on the latest related to this new club and tournament (for now at) – http://texasfishingforum.com/forums/ubbthreads.php/topics/7820440/1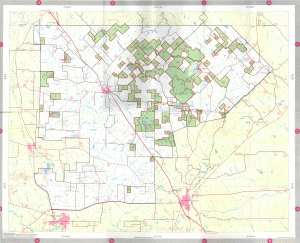 The LBJ Grasslands are about 15-thousand acres, so after you drive there, get ready to drive even more. I don't remember many shortcuts either, so once you commit to a pond, you're all in – one way in, and one way out.
Category: Culture on the Skids, Fishing Reports, kayaking, North Texas, Tournaments and Contests