Feeling the need for social interaction? The party circuit is fully powered with two parties (that I've been informed on) for the next two weekends.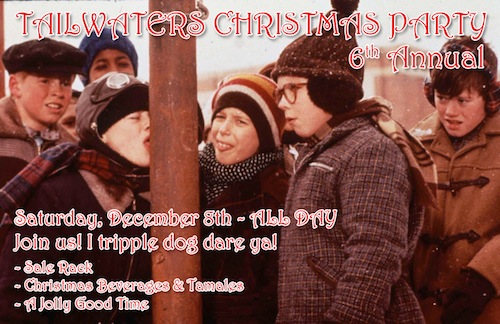 SATURDAY, it's the Tailwaters Fly Fishing Company Christmas Party in Dallas, Texas. Three things I can guarantee – 1) it'll be crowded, 2) it will be fun, and, 3) gift giving options will abound. We always buy for ourselves don't we? According to Sean and Travis, it's going to be a great party that will be going on all day.
– Tamales & Cold Beer
– Sign Up for Online Gift Registry
– Fully Stocked Inventory
– Gift Items
– Sales Rack
– $35 Gift Card for Joining the Gift Registry in Shop at Party
Join us as the shop for our 6th annual Christmas Party! As always, we will have tamales and cold beer on hand to compliment our fully stocked inventory of gear, clothing, tackle, gift items and sales rack. This is a great time knock out some early Christmas shopping, complete your wish list on our new online gift registry, or send in your family and friends to do some Santa shopping on your behalf. What's more? Come in on Saturday, December 8th and complete a wish list in our gift registry to receive $35 off your next purchase of $100 or more!
NEXT SATURDAY, the party starts at Living Waters Fly Fishing promptly at 9-am, with a schedule that looks pretty full –
FLY SHOP CHRISTMAS PARTY
Saturday, December 15th, 2012
EVENT SCHEDULE
9:00 A.M. — Doors Open
10:00 A.M. — Dry Fly Fishing the Guad / Presenter: Chris Johnson
Come and learn the basics of "doing the impossible" on the Guad! Yes, trout in our local tailwater can be caught on dries and we will show you how!
12:00 P.M. — BBQ Lunch served @ LWFF! – Please RSVP
1:00 P.M. — Fly Shop Gift Giveaway! — Make sure that you get your free raffle ticket when you come in the shop!
2:00 P.M. — Do-It-Yourself Saltwater Fly Fishing /Presenter:Austin Orr
Austin lives in Corpus Christi, TX and fishes the salt with a passion! He will be discussing the fundamental elements of DIY Saltwater fly fishing on the Texas coast. Flats, surf, and jetties — it will all be covered in Austin's presentation! He is also a Certified Casting Instructor and will be available to help with all of your fly casting needs!
3:00 P.M. — All-Water Tying Demo
Learn how to tie some of our favorite fresh and saltwater fly patterns! From mayflies to shrimp and caddis to crabs — it will be tied!
6:00 P.M. — Doors Close
Cast your browser to these fly shops –
Tailwaters Fly Fishing Company
Living Waters Fly Fishing
BE SURE TO LET THEM KNOW WHERE YOU HEARD ABOUT THE PARTY – between eggnog shots!
If your fly shop is having a party, be sure to let me know and I will make sure the keg gets floated. Let the fun begin.
Category: Culture on the Skids, Fly Shops