Growing up my father always talked about a generic mystery fish called the "gaspergou". I was growing up in the land of speckled trout, sheepshead, redfish, hardheads, and the occasional snook. So, as names go, I chalked up the gaspergou as a regionalism – a regional fish species and / or a regional name. What the heck was a gaspergou? The name gaspergou was, and is, one used in humor, or to name a fish someone was unable to identify. The closest analogy is to a snipe hunt, but this time the snipe was real.
We rarely fished in freshwater, and therefore I had virtually no confidence in my freshwater abilities. To me, saltwater was easy … the bomb in modern parlance. I could fish the surf in front of the beach house, the Arroyo Colorado or we could take an overnight to the Three Islands house where it was almost always FISH ON. It goes to reason that a gaspergou was real because I knew almost nothing of fresh water and its species.
Yesterday, I was advised to eat my wheaties before we did an expedition in the northern reaches of Lake Ray Roberts. I am learning that "eat my wheaties" means; get ready for a summer wheat beer on the tailgate for breakfast, and get ready to hit the store for a cold one once we are out of the swamps.
I was afraid I could not heed my own advice with all the calls coming in to get out and fish (I appreciate them all), and I finally succumbed to one so remote I knew it would not be crowded or wavy from jet skis trying to "rock the pool" so to speak. We're talking way north. It's a place I have had great adventures via kayak, and have seen unusual things – huge grass carp, bass and common carp in great numbers.
On this trip, as we began rounding points, the flats laid out before us in the ultimate crystal clarity … epic quantities of black buffalos, smallmouth buffalos, carp and largemouth running from bass boats. I saw more buffalo in one day than I had seen in all my time on Ray Roberts. Adrenalin became a factor as I tried to no avail, at least a half dozen times, to drop a typical common carp fly in the path of these double digit vacuum cleaners. My compadre, who has much more experience than myself, said he is convinced that catching a buff is all about getting a fly in the path of their vacuum cleaning – not fly selection or presentation. They just don't chase. So after a half dozen misses watching a half dozen double digit fish move on, I concentrated more on keeping up and covering ground.
The water was super clear and the skies were virtually cloudless, so we had the nearest thing to saltwater flats that freshwater can offer. We were able to selectively sight better carp on shoreline tree roots, and move faster to cover the five mile run of new (to us) fishing grounds. Nary a footprint anywhere, as well as no mono, lures, worms, beer cans … we were away.
The dead calm gave way to stifling heat when we navigated coves and areas protected by little breeze. On the last mile of the five mile march water clarity kept getting deeper, and I spotted what I thought was a carp at about three-and-a-half feet deep. It was displaying typical carp poses, but was deep enough that I could not tell the color and decided one more carp couldn't hurt anything. It was a bassy area, but I was at least certain this was no bass.
I could see this one take like a carp as the fly passed a few inches from its mouth, and then something strange happened. It didn't act like a carp – it just went off, way off. After jog-sloshing down a few paces, I was confident that it wasn't going to be able to wrap around the nearest tree, and we were confident it wasn't a bass because there was no signature jump. Maybe I finally coaxed a black buffalo, or smallmouth buffalo? I managed to turn it, but it wasn't done yet – two more solid, strong tares and it popped to the top for a second and we saw … a freshwater drum, otherwise known as, you guessed it, a gaspergou.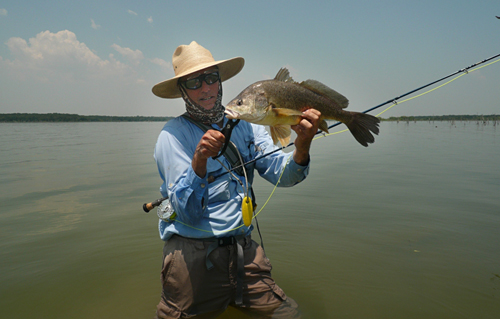 So, for all you salty fly dogs out there, here's your vaunted saltwater drum, all stunk up and freshwater slimy. Have yourself a gaspergou filet and a Pabst Blue Ribbon, and know we freshwater fly fishers have gou too. My compadre reminded me of the rule, "He who catches the gaspergou, buys the beer." All things considered, it sounds a bit punitive for such a good clean fight, but rules are rules.
Strangely enough, I came across an article in the Corpus Christi Caller Times about the gaspergou by David Sikes in the May 30th. edition. Have a read from someone else who knows a lot more about gaspergou than I do, and someone who does not hesitate to tell you the best way to cook a gaspergou as well! I would certainly like to test myself against them again – whenever and wherever I can find them.
Category: Culture on the Skids, Fishing Reports, North Texas