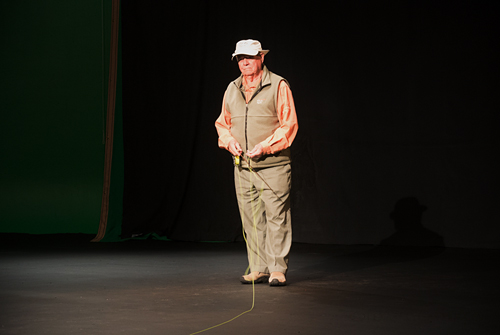 On sound stage with Lefty Kreh yesterday morning at the studios in Irving, Texas.
NOTE – I don't spend a lot of time on Texas Fly Caster talking about casting. Maybe I should. If you read the stories here, you probably realized I am a Lefty Kreh zealot many years ago. "Hands on a clock are for telling time," as Bernard Victor Kreh says …
I don't really know if it's the long layoff, or a flaw I am finally seeing in full resolution (thanks to the GoPro), but I loaded some video of my casting the other day, and … Houston We Have a Problem!
What I saw was a wrist bending, a wrist that should be straight and stiff, thumb opposed to the target. It was so bad I felt a little queasy.
Fast Forward – It just so happens I was able to get on to the sound stage at in Irving, TX, today, while Lefty Kreh and Ed Jaworowski work on a new video about one of Lefty's most important contribution to fly fishing – his casting techniques. It's one of those sound stages where magic happens, movie magic. Today's schedule for Stage C would be a little different – casting magic.
The crew was setting the lights and Lefty was getting comfortable sitting along the wall on a row of chairs. Front row. The only row. A list of techniques was being reviewed, and my friend Chris picked up a rod and stepped out into the light so adjustments could be made. The three cameras needed to see the fly line in motion, so Chris was casting a small office practice rod – a TFO product that's short and gives you room to work in small spaces.
Like a moth drawn to the flame, Lefty had to zero in on Chris, and since Chris is in charge, he could only take about three or four more casts, and hollered, "Shannon get out here!" To say I was put on the spot – in the spotlight, take a look at the photographs, is absolutely accurate. I am there five minutes, and I'm standing in a spotlight, on a soundstage, in front of Lefty freakin' Kreh with a casting flaw that guarantees … "there will be blood," – mine.
Now Lefty Kreh was in the Battle of the Bulge, so if you think he's into whispering sweet somethings into a broken caster's ear, well you better look up the Battle of the Bulge. "Don't bend your wrist! Straight back. Keep the tip level. You're dropping at the end," words spaced out between casts and backcasts – all the best personal instructions that told me what I had already seen only a couple of days earlier.
Of course I began to try and correct things, without saying a word, and correcting one thing lead to another breakdown. That's how casting goes until the right muscles take over, and the wrong ones are permanently retired. I wondered again just how long this had been going on. Sure, I can get fifty, sixty sometimes seventy feet, but at a high cost.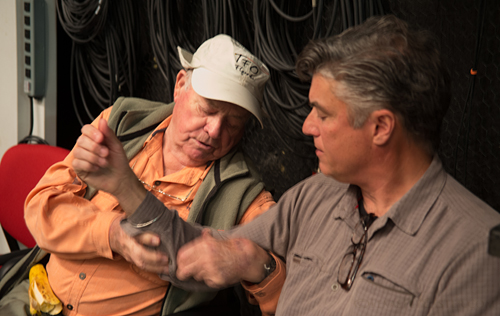 Thanks to whoever picked up my camera and took this photograph! Amazing it was captured. My moment of ultimate truth.
As Lefty and I sat down on the row of chairs, I was telling him about the cost; "Man, in the heat of the summer, fishing every day, my elbow starts to scream," I said. "Hold up your arm, give me your forearm," and he pinched my muscles just about five inches above the elbow. "Now bend your wrist like you were doing." I felt the muscles flex right down into my elbow and compress on that nerve. "Feel that?" he said. I felt the most important reason to fix my cast – pain.
As we sat around, and the day went on, conversation wandered all over the place. Lefty is a Nikon shooter and we both have the Nikon Pro V1 and we marveled at that camera and talked gear for a while. For instance, the first Kodak Kodachrome film he shot was ISO 10. Unless you know your photo history, you may not realize that there just aren't a lot of people left alive who have shot Kodachrome 10.
One way I have always corrected my casting problem in other people who are taking lessons is to tuck the butt of the rod into their shirt sleeves. I managed to get a couple of those rubber wrist bands out of Rick Pope and you can bet I will be wearing them on the water until further notice. I ordered 200 of them Monday night.
It looks like I will be back at the shoot Tuesday morning, but my moment in THE SPOTLIGHT has, with mercy, probably passed.