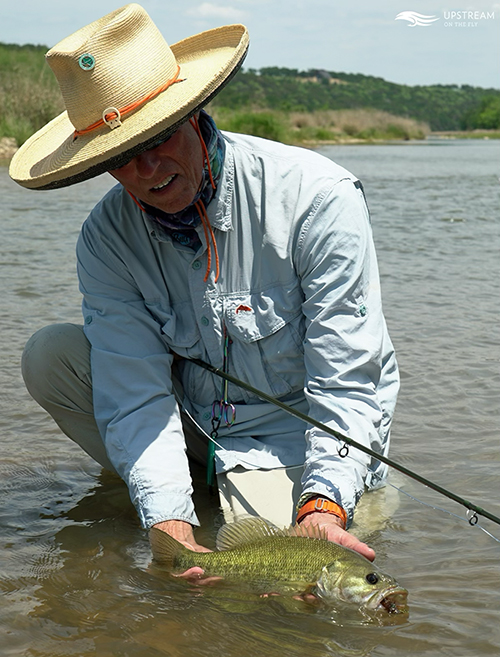 Many Videos To Cross … Off The List
Thanks for tuning in on a random Friday morning fellow Texas fly fishers! I just want to say I've been home (aka. where I lay my head) for a week now, and what a difference a week makes!
Wednesday, it was fly fishing a small stretch of the Brazos River with friendo and guide Greg Welander as he zeroed in on the where and how of this fairly rugged and beautiful little piece of water – for an upcoming guided trip of his, and the results … are, as old Hollywood said, "in the can." That means they are shot and wait for their edit – for the young fly fishers and "videoers" and socialites out there.
All props to the Brazos River: I caught seven species in the few hours of fly fishing with Greg Welander this week! As I have said, the Brazos is an amazing place for the species count.
But not only is that video in the can, the lineup of videos on deck from South Padre Island? Well, that is a huge undertaking – almost a month of shooting when the weather allowed, and with all the randomness of a box full of monkeys on meth. So there are lots of videos to work on from the Lower Laguna Madre right here to the Brazos River below Possum Kingdom Lake.
Home Front
Obviously, I am back on the home front and by the time this publishes, a step-grandfather-ish of sorts. My God, I never knew such thought went into a grandparent name! As for me, I chose "Dude" for my grandpa name, and that is after I shaved and was talked out of "Goat." Yes, I know Goat has more than one meaning (all true I might add), and that is why it had such an appeal. But Dude? That is perfection. The Dude abides.
While clients are starting to reach out, let me just say, I NEED TO GET ON THE WATER in the next few days – rain or shine. I am also tuning myself into nighttime fly fishing here on North Texas lakes since I worked out some of the wrinkles in the Brownsville Ship Channel last month.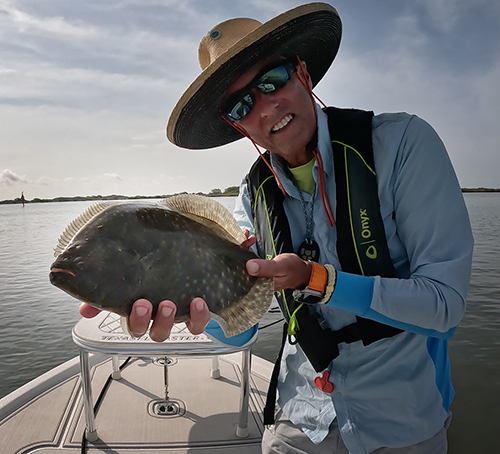 On The Mats
The fly line mats are going wholesale now. If you are a fly shop looking for the right product to sell to folks frustrated with line management? These mats are still moving at a good pace. Sales have reached three Continents, and the reviews are starting to come in – with vigor. Sometimes lady luck … ahhhhh, but I won't tell you about the other invention that fell flat about fifteen-years-ago, at least not until I roll it out again. Here's the hint though: Do you have to roll out two trash bins on trash day?
Upcoming Events
There are some events I will be attending in upcoming weeks. One is next week at the fly tying event put on by Dirty Water Fly Co. at McNeal's Tavern & Eatery in Plano, Texas. Here is that info:
-Tuesday night is our "Open Tie Night" @ McNeals! at 7PM. We are looking forward to having a great time and spinning up a bunch of great flies. Our Fly of the Night is the Bandit Baitfish and we will have small kits available for $5 to tie along. Bring down any materials you would like to tie with. We encourage you to tie whatever you would like. There is a limited amount of tool sets available for use. Please bring your own tool and vise setups, if you have them.
-LIVE MUSIC KICKS OFF AT 8PM
-HAPPY HOUR EXTENDS THROUGHOUT TYING NIGHT – $3 OFF DELICIOUS APPS AND $2 OFF MOST DRINKS!!!!
Category: Adventure