2008 Hurricane Ike in words and photographs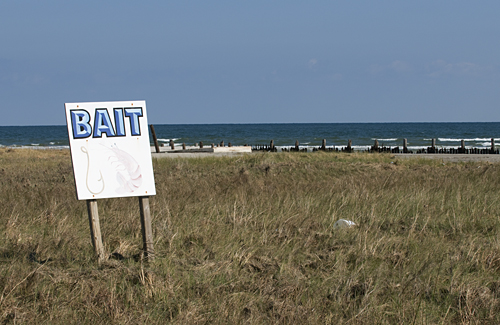 Strange remains from the 'cane. I think I remember a building here before Ike.
My ears popped right about Death Row – Huntsville, Texas. It's not an altitude pop – it's a sinus pop. You see, if you live in North Central Texas long enough, and I guess get old enough, you finally get at least a touch of allergies sometime during the calendar year. For me, it's second nature. Family calls from allergy free parts of Texas, and it starts; "You sound like you have a cold … yada yada yada." It's just part of everyday life at less than 100-percent … aging can be such a pain in the … heck, maybe it's the constant pollution – orange, red and purple days.
But southeasterly bound, on I-45 out of Dallas, I begin to feel the weight being lifted from my eyes, ears, nose and throat. The glint of a late afternoon sun lights the razor wire like crystal chenille on a white woolly bugger. The stuff just glows, but doesn't attract.
Only a few miles further along the road, and the first signs of Ike's impertinence begin to show …
East Texas pines lay down in submission along the highway with no real pattern of wind direction. The cleanup is already well underway, and more than one tree has been segmented by chainsaws, gathered in a pile, and waits patiently for its final resting place as garden mulch or fireplace fodder for next year's holiday memories.
The sun gets a little hotter, and the humidity goes up maybe five percent. I swear I can smell the salt just like smelling the ground shad on the surface of a lake sand bass blitz. It is so faint, so far away yet so close. This trip to Houston is work, and maybe a neighborhood pond or two. If I make it to Galveston, it's to gawk, photograph, learn and inform – and get the word out about what the situation is here.
I had a shoot on Galveston Island only a week (to the day) before Ike hit it at a category 2, and moved inland with all the fury of a Atlantic bred 300 mile wide warm water hurricane.
It always tweaks my imagination that a hurricane that starts in the Atlantic, hits Cuba or other Caribbean islands, holds together and ends up in Texas. Too bad it doesn't rain Cuban cigars, Rum and Red Stripe.
LK and I watched the national media showing the radar images of the hurricane as it hit the Texas Gulf Coast from a helpless distance at Abe's Fly Restaurant in Western New Mexico. We were preoccupied about the inland direction of Ike as pundits showed it holding together all the way to DFW. The talking heads did their thing – broadcasting, like human yo-yo's, into the wind and back out to show "folks back home" just how windy it was. Do people ever tire of these huge train wrecks in slow motion? Not yet.
Ike proved the unpredictability of hurricanes, and tracked more straight north sparing DFW a flooding rain and wind event that was earlier predicted. We rested easy after a few calls home, and got back to the San Juan swimming pool.
Hurricane Ike Part 2 – on the Island
Category: Causes, Life Observed, On The Road, Texas Gulf Coast