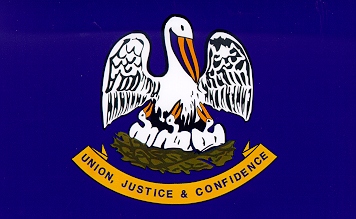 When you see the Louisiana State Flag, you know we're talking Cajun at Texas Fly Caster.
July still shows no mercy on we Texas fly fishers, and from what I can tell, everyone is staying inside, out of the continuing heat and drought, and writing, tying flies, and making plans for fishing trips anywhere away from here. And with plenty of time on hand, enough to tolerate a slow internet connection, it seems logical to use this time for us (yeah, you're going with me) to gather information on our next destination.
I've always believed that if I have to be cooked by Texas heat, I would just as soon be boiled in saltwater – gets rid of the gaminess, you know. In what is quickly transforming into a tour de' force, it's looking like we'll be going to Louisiana to cover the trade show there, participate in the IFA Kayak Fishing Tour stop south of New Orleans after that, then come home, regroup, and head for the IFA Kayak Fishing Tour stop in Corpus Christi, Texas, to end the campaign. Keywords include, but are not limited to, roughing it, heat, mosquitoes, hurricanes, hurricanes the drink, hunting wi-fi connections, gators, handguns and I am hopeful, redfish, speckled trout, great fishing and interesting stories – from the trade show floor to the tide pools of the Mississippi Delta.
This will probably take several posts to "complete," but once all the words and research are in, I think you will agree that it could be the ultimate resource for information on fly fishing for redfish in Louisiana, and Corpus Christi, Texas. So far the information stacks up like this:
– The IFA Tour and How Not To Win
– Information Gathering – Gear / Flies / Conventional / Maps / Locations / High Life – Low Life
Stay tuned and feel free to add to the knowledge base on redfish fishing in Louisiana, or ask questions that I may have missed asking myself – there's bound to be a few of those.
Category: Culture on the Skids, Fly Fishing for Redfish, Fly Tying, On The Road