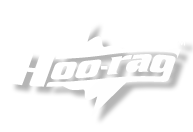 With all due respect to the bible, and no intent of anything that would send me straight to hell; In China, all things are possible.
I received a couple of sample Hoo-Rags, a Buff Headwear contender, the other day, and as is my custom, a "First Impression Review" is on order to kick off the review process on a product that always seemed easy enough to imitate, but impossible to copy – Buff.
The reason I never thought much about anyone being interested in knocking off (literally, and figuratively) Buff is that finding tubular, seamless fabric seemed pretty daunting. And if you did find it, it would have to be by the container load, and if you were able to get a container load, chances are they would all be black, white or grey – until they proved themselves and more importantly $old.
I received a contact e mail from the fine folks at Hoo-Rag, and within three days I had a couple of samples in my hot little hands.
FIRST IMPRESSIONS
First, I like the fact the folks at Hoo-Rag are much more eco friendly with their packaging than Buff. I have seen so many times in retail that once success sets in, so does the bloat. Although Buff packaging is cool, is it really necessary? Hoo-Rags come packaged neatly in sealed cellophane, and nicely folded. Their packaging will hang much better and more cleanly in your retail displays than Buff's – for sure! Only drawbacks for the packaging; customers can't touch them, or confirm that there's no seam – before buying.
The seam is the thing, and Hoo-Rags have no seam to irritate our sensitive red necks.
Since first impressions are almost purely tactile, I decided to give the Hoo-Rag a stretch. Interestingly, it stretches in circumference, but not length. Certainly a factor of the fabric, and no big deal. The printing on these – a repeating black-and-white fly and another with a diver down flag, are surface dyed just like Buff's, and the edge cuts look to be within the same tolerances as a Buff. (Sorry for all the comparisons to Buff, but they are the only competition out there.)
The next thing is UPF factor on Hoo-Rags, and since I have forgotten, the SPF factor on Buff, I began to dig. My e mail to Hoo-Rag was answered immediately:
Hi Shannon,
"The UV protection rating is between 20 and 30 depending on the color. Darker rags are rated higher than lighter rags"…
Best,
Leslie Williams
Sales / Marketing
Okay, UPF ratings depend on color. I didn't know that. I also found out that older, more washed and worn fabrics lose some of their SPF ability. I backtracked to see if the Buff site had a SPF rating listed for their product.
Here's what I found in the Frequently Asked Questions:
"What factors allow the fabric block UV rays?
Factors that contribute to UPF ratings are: composition of the yarns (polyester), tightness of the weave/knit (tighter the weave the more UV blocked), color (darker colors block more UV), stretch (more stretch lowers UPF rating), moisture (lower rating when wet), condition (worn/faded garments have reduced rating) and finishing (some fabrics are treated with UV absorbing chemicals)."
Lately, I have noticed serious skin damage below a general line where my sunglasses run, back from my eye and down my cheek toward my ear lobe. Things began to click. That's where a Buff, or Hoo-Rag is stretched the thinnest when pulled up and over for coverage. (Yes, Mom, I know I have always had a big head) I think that stretching reduces the SPF, and if you add that to the aging Buffs, it's all over but the chemo. Time for some new sun protection.
If I were you, I would give a Hoo-Rag a try this spring. Their prices are about $10 less than Buff and they have free shipping right now. Regardless of brand, make sure you replace your sun protective fabrics based on usage. I am guessing I am about two years past due on this particular piece of sun protection.
Watch the video below, if you are not familiar with this type of sun protection. All I can say is, no actors were harmed in the making of the video.
Category: Clothing, Equipment, Industry, Science and Environmental, TECHNICAL, TIPS