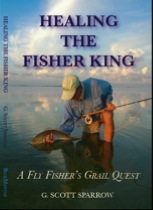 I may have mentioned I am reading Scott Sparrow's book "Healing the Fisher King – A Flyfisher's Grail Quest", and I may not have mentioned it. I may have just dreamed I mentioned it, if you know what I mean.
Regardless, unless you are living under a glob of crude, you realize that the Texas Gulf Coast is the last remaining pristine state coastline of all states surrounding the BP oil spill. That means one thing is coming our way – pressure. Anyone with the cash flow and impetus to fish the Gulf of Mexico will be looking long and hard at Texas – all of Texas, and all types of fishing. So, while I am gearing up for Colorado next month, what I should be doing is going coastal – The Arroyo Colorado, and maybe a private session or two with Captain Sparrow (not Jack).
I wonder if he mixes the two? That question came roaring to the forefront after I did a simple search on Scott Sparrow, and found him there – right there in the Valley, working as a dream guide, and fly fishing guide on the Arroyo Colorado. If you need my references to the Arroyo, look no further than the masthead images of my youth on the Arroyo Colorado. I am not so sure I am all about this "dream analysis", but I can't deny the benefits of meditation and an active dream life. If you throw in the fact his wife is a university writing instructor – heck, I am looking at a complete overhaul.
I have yet to finish the book, but if you are looking for … something … and aren't afraid to dig into your dreams, or as in my case a lack thereof, see if you can find a copy of this book and put it by your pillow. WARNING – Can Cause Insomnia!
Category: Culture on the Skids, Life Observed, Literature, Writing