[book id='6′ /]
This proved to be a breakout year for the revamped Troutfest, an annual event hosted by Guadalupe River Trout Unlimited, and based at Rio Raft along the beautiful banks of the Guadalupe River in the Texas Hill Country.
I wasn't able to make it back in time to take advantage of Friday night's banquet, but we made it down late morning Saturday to find Rio Raft abuzz with smooth moving traffic, great parking people everywhere, and voices from the vendor's tent an audible hum from fifty yards away.
Inside the tent, vendors of every variety were busily preaching to the converted. I was floating in and out of Diablo Paddlesport's booth, and discovering just how many people I didn't know. Stranger yet, they already knew me. Such is the existence of Texas Fly Caster. Texas Fly Caster's footprint is apparently sinking deeper into the muck of internet information, and some of it is obviously sticking to your boots. Just don't tell your wife you tracked it in the house.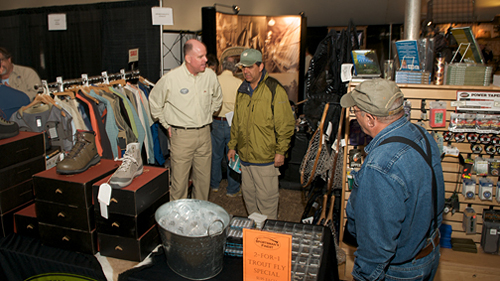 I was especially interested in two retailers – Sportsman's Finest in Austin, Texas, and Living Waters Fly Fishing located in Round Rock, Texas. Living Waters is a family affair owned by Chris Johnson, and even though the website doesn't do anything to drive the point home, Living Waters is a fly shop in Round Rock. Mrs. Johnson informed me they are in the process of moving into a new location, and I arranged to do a story on them at their new location as soon as they are open for business. Living Waters had all the vendors we expect (with inventory) from a very good fly shop. I can't wait to see their new location this spring.
Over at Sportsman's Finest, Greg Welander and Stacy Lynn, were working hard to talk to everyone who came by their location, and they did know about Texas Fly Caster. Greg has a weekly fly tying invitational at Sportsman's Finest that draws at least twenty people – every week! That's just another pin in the hat of Central Texas clearly emerging as the epicenter of fly fishing in Texas. I am in the process of scheduling a Tuesday to go down and demonstrate Joel Hays' "Coyote Carp Fly," and get my hands on some gear to field test. I later caught Greg casting a new Sage VXP outside the tent, and managed to pry it out of his hands. All I can say is, "Wow, what a rod!" The Sage VXP casts like you imagine a Sage, then it lays out and presents like … well, "floats like a butterfly, stings like a bee," is all I can steal. It looks like Sportsman's Finest may become a regular display advertiser on Texas Fly Caster as well.
I was stopped in my tracks watching Joel Hubscher, owner of Red Stripe Rod Co., talk about how he makes nodeless bamboo fly rods. I fully expected a secret handshake society welcoming to any bamboo rod maker's realm – a nod and wink, and a couple of secrets kept from seekers. Mr. Hubscher was great at clearly explaining his rod making methods, what makes them different, and showing how he actually cuts, reassembles and shapes each individual piece on the way to a nodeless bamboo fly rod. IT made me want to … no I take that back.
Along with the sizable contingent of retailers were some very interesting attendees, including Captain Steve Utley of Blue Heron Adventures out of Corpus Christi, Texas. Captain Utley showed me (what I call) a "stupid simple" weed guard, that all of you may know about, but was like being struck by lightning for me. Look for a demonstration of that in an April video. Captain Utley is also a member of Laguna Madre Fly Fishers CC, another organization worthy of note. They have fly tying gatherings on the third Thursday of the month. The Captain will take you on nature sightseeing tours or light tackle fishing via kayak or boat.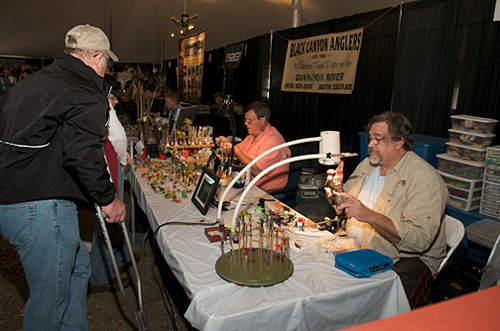 It's amazing how many active fly tying events there are in Central and South Texas on a regular, successful and well attended basis. Call me loco, but North Texas fly fishers could sure use more participatory events like this – in reasonable (social) locations.
Also in attendance was the Texas Parks and Wildlife Department's fishing outreach, and it was good to run into Ann Miller with wonderful displays and aquarium trout to boot. If you recall, we met Ann Miller at the certification classes earlier this year – "Back and Certifiable" is the post on that adventure.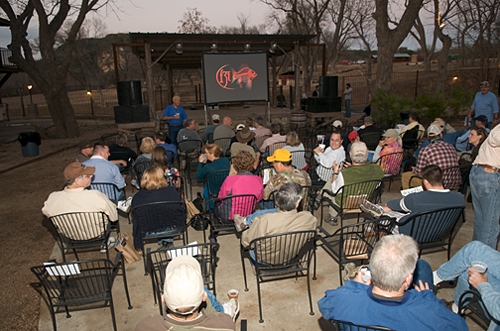 Saturday night was the Fly Fishing Film Tour event at the Withewater Amphitheater, and it's a fantastic outdoor venue that regularly hosts great live music. The previews were the usual fish porn movies, many of which still have never reached release, and I am beginning to believe, at least in the case of the Van Zandt – Low and Clear "series," may never be seen through normal channels. That series between VanZandt and Alex "Xenie" Hall, the new segments, transcends fly fishing. Low and Clear is by Finback Films, and they may have stumbled upon something that will require more time to see how it actually, finally, unfolds. I am still looking for this year's preview, the one I saw at the FFFT at GRTU Troutfest. The documentary begins to peal the layers away from both characters, and reveals more of Van Zandt's (to us glamourous) lifestyle, and on the other side of the coin, Hall's single-minded obsession that goes to the edge of reason. By the end of that preview, Hall was beginning to scare some people – nothing personal, but he's so hardcore that the step from admiration to fear is a short one.
There were several lectures and demonstrations (over the two days) that I completely missed while being cornered by readers, cornering vendors, and demonstrating the fly castability (new word) of the Diablos right out front on the Guadalupe River. Maybe next year. If you go, be prepared to spend the whole day there, and consider bringing your own food, because the single vendor was more than acceptable, and probably all that could be expected for a "new" event, but …
POSTSCRIPT
I have to get back to packing for Arkansas. Thanks for reading, and I will be out of pocket for a few days, seeing what the big deal is about Arkansas' White River. I will be a passenger for a change, so maybe some hands-free free hand writing will result. Texas needs rain, so those of you looking for palmetto bass will just have to hold your horses. If you forgot, I'll never forget, it was a year ago on the 15th. that I caught that ten pound palmetto on the Trinity below Ray Roberts. Sorry, no pictures of that one. It was fun turning locals Joel Hays and Chris Weatherley onto that action – as well as all of you of course! And I'm glad you all have pursued that knowledge with your fly rods as well … the fish gods were good for that run weren't they?
Category: Events, Fishing Reports, Guadalupe River, Industry