Fly Fishing Not Impacted by Time Change
You guessed it! I am running behind, on the face of the clock at least, because of that wonderful time change – and it is truly WONDERFUL!
Not only does it smell, feel and taste like spring … it's beginning to look like spring. I walked through a flock of crane flies Saturday morning, on my way to where no one would want to go, but there they were the cranes are here! Then Saturday night brought the time change, Sunday brought some dastardly winds – clocked at up to 45-miles-per-hour around here, and a sharp cool down last night and this morning. Thankfully, the cool is getting burned away by the giant star we revolve around, and our excitement builds.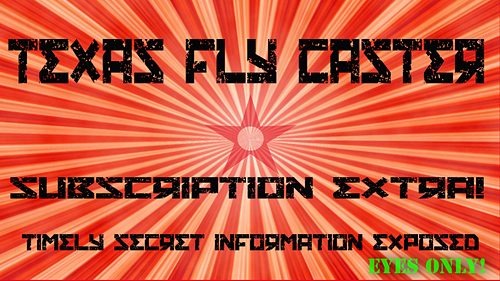 SUBSCRIBER YOUTUBE INSIDER
For those of you who have either used my fly fishing guide service, or to the paid content on this site (now defunct), you are automatically privy to the MICRO DETAILS on HOTSPOTS I find while doing my story research. Be sure to contact me if you want to subscribe to the Texas Fly Caster YouTube Insider Report, and we can make that happen. I estimate there to be about thirty of these supplemental subscriber videos a year, and they will certainly save you a dollar's-worth of time and effort. These reports contain the information NOBODY wants anyone to share.
Needless to say, it is time to book your trip with me, and contact me for lessons if you are new to the fly fishing world. I have already had a number of contacts, and I appreciate that! You are the motivation for all these reports and show-and-tell videos.
---
We have to leave this Monday Morning Sidewalk at that, as I have an epic anniversary today, and attention must be undivided.
Category: Complimentary Reading, Fishing Reports, Life Observed, YouTube Subscribers