fly fishing art texas fly fishing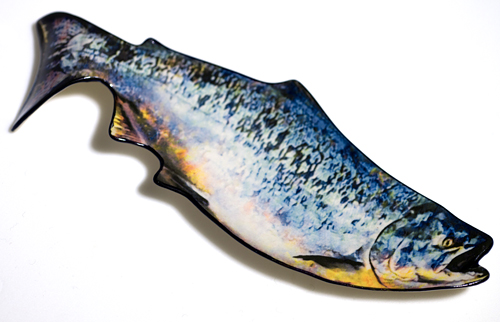 An interesting ceramic piece by Bev Potter BECA of Wildcat Lake Pottery
This week's fly art artist was found by my friend Joyce. It looks to be a photograph transferred to porcelain. Super realistic and an interesting idea. It's by Bev Potter – BECA of Wildcat Lake Pottery in Bremerton, Washington. I am trying to figure out how she got the pottery shape matched to the image. And that's one of the fun things about art and looking more closely at art; it's kind of like trying to figure out how a fly was tied.
LOCALS! GET OUT FOR SOME ART AND ENTERTAINMENT TONIGHT!
Today is the increasing popular First Friday Denton (FFD) night tonight, so if you are within range, be sure to come out and check out the live music and festivities. The epicenter is the Historic Square in Downtown Denton, Texas.
READ! –
I started FFD in 2010 and it has been growing and changing ever since. You can visit the official website for FFD at www.firstfridaydenton.com.
If you can't get out, be sure to try and see a live "Hangout" from Banter Bistro. It's a live camera hookup via Google+, and you should be able to find that here – First Friday Denton Google+. I am looking to start that broadcast about 8pm. This is that same technology I used to do a live feed from the fly shop last week. (Get used to it!)
The Greater Denton Art Council's Materials Hard & Soft is also going on here in Denton now, and that show is at the Center For The Visual Arts, which is very close to all the FFD action as well.
FLY PHOTOGRAPHY & VIDEO
We have a lot of effort going into getting PoPs Fly Shop up and running right now. I am photographing flies one night, and adding them the next. So be sure to go over to PoPs and see if there's anything of interest. And check back there soon for the first sighting – video – of the mysterious Pop, owner of PoPs. This guy is strange, but I like his shop.
There are books, and other inventory besides a selection of GUARANTEED flies. Better to buy merchandise there than pay for premium content here, right? You help PoP, PoP helps me, and all our boats float.

Category: Adventure, Eating and Drinking, Life Observed