Fort Worth Backwoods in New Location with new outlook on the fly fishing life.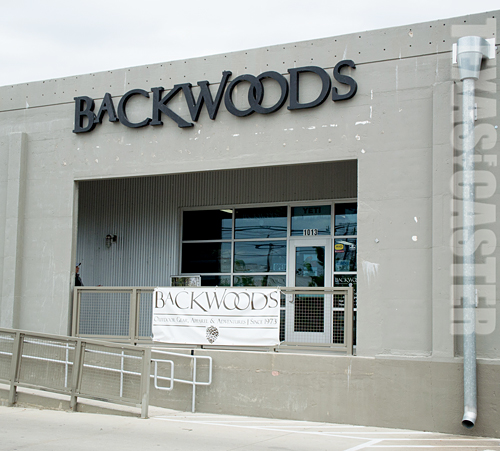 Having been informed that Backwoods Fort Worth had indeed been reborn, I did my duty and went in to apologize at the rumors I spread of their demise. Of course, who could have known the store has reopened under new ownership IF IT WAS NEVER EVEN ANNOUNCED?
I found the new Backwoods digs (1013 Foch St, Fort Worth, TX 76107) to be a bit cozy, but I was encouraged by the move of the fly fishing area to near the front of the store, and much of that pricey clothing shifted to the back.
"The only stores that survived were those with fly fishing (departments) that were doing business, so that means something," Stephen Woodcock said, last Saturday, April 1st. And that's why the new management group decided to give fly fishing a more prominent role in the surviving Backwoods stores. Woodcock added that he was still a bit unsure as to who the new owners are, other than (possibly) a real estate group. NOTE – Rumors spreading that a group of fly fishers have purchased the stores appear to be false.[ppw id="160883013″ description="Condition of Fly Fishing Retail" price=".25″]
The staff has thinned with few full-timers and a helping handful of part-time workers that maintain a diverse knowledge base. The kayaks are gone, but stand-up paddle boards are in the font window. Kayak rentals are still going down on the Trinity as well.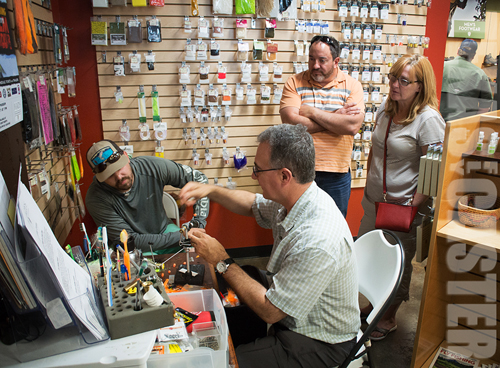 And Stephen's forte, fly tying, still occupies a chunk of real estate, but the shelves are certainly thin when it comes to materials. I counted something like five bucktails, which gives any fly tier a pretty good idea of supply. Nevertheless, Stephen didn't hesitate to sit down at the vise and demonstrate a quick topwater fly to a couple of customers at a moment's notice.
"We only missed one fly tying Wednesday, and we were closed for three weeks," he said. "I told the guys to show up, and I opened the doors," so they could gather on Wednesday nights to tie flies, Woodcock said.
When we were talking about the crowded floors, Stephen looked at the new location as something of an interim step on the way to a larger location. For now, I think they could do with fewer rolling clothing displays, and maybe that would get rid of some dead-end traffic patterns. It's not exactly a "minimalist" look they have going.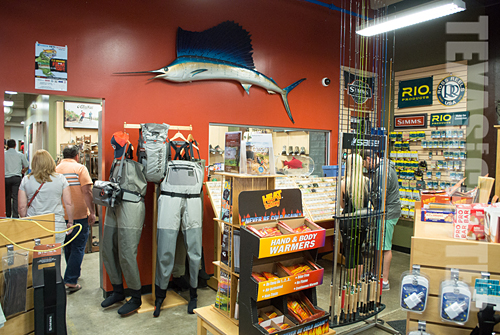 The store's supply of Simms seems to be holding up, but it's a bit difficult to know just what they'll do to replenish their fly rods; another costly inventory item, and one that needs to move to be viable. Later that evening, I heard that keeping the "Backwoods" name was debated because some problematic vendor (credit) history (you can imagine!) came with their recent past.
"Your story hit the nail on the head. Sears. J.C. Penney. The big boxes are in trouble. The fly shops in the big box stores want the fly tying merchandise to move, and that's not how it works," Woodcock said, adding, "You can sell certain flies one season a year (and their ingredients), when they are in season. The rest of the time it sits there. Big box stores see that, and mark it down to move it … they just don't get it."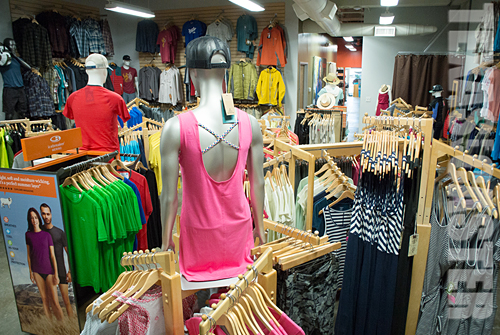 CONCLUSION
All-in-all, we would want any fly shop to succeed to the best of its abilities. I find it hard to imagine that doing the same thing, no matter how long you've been doing it, will now produce different results. I would (once again) encourage all fly shops, but specifically Backwoods Fort Worth, to do a better job of professional industry outreach – as I described in the previous article.
The Fort Worth location of Backwoods is pretty tight, but at a party (with a lot of fly fishers) later that evening in Fort Worth; we pretty much agreed the general business area is "interesting," if a bit "frat-ish." But we fly fishers know we'll go just about anywhere to talk fly, listen for fly knowledge, make fly friends and buy what we need while we're there. In general, I sometimes think some shops can get so busy in the day-to-day that they forget to change dance partners, and "dance with the ones that brung 'em" every once in awhile.
Backwoods is one of the sponsors for the Fly Fishing Film Tour in Fort Worth this year. That event is at the same location, and the same events are happening on the pond as they always have in the past. I will have a story on that in the next few days. Click to enlarge map –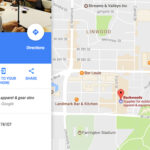 [/ppw]
Category: Clothing, Equipment, Fly Shops, Fly Tying, Industry