Fort Worth Backwoods in New Location with new outlook on the fly fishing life.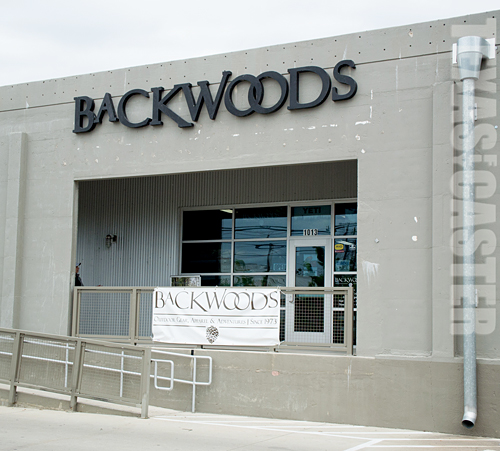 Having been informed that Backwoods Fort Worth had indeed been reborn, I did my duty and went in to apologize at the rumors I spread of their demise. Of course, who could have known the store has reopened under new ownership IF IT WAS NEVER EVEN ANNOUNCED?
I found the new Backwoods digs (1013 Foch St, Fort Worth, TX 76107) to be a bit cozy, but I was encouraged by the move of the fly fishing area to near the front of the store, and much of that pricey clothing shifted to the back.
"The only stores that survived were those with fly fishing (departments) that were doing business, so that means something," Stephen Woodcock said, last Saturday, April 1st. And that's why the new management group decided to give fly fishing a more prominent role in the surviving Backwoods stores. Woodcock added that he was still a bit unsure as to who the new owners are, other than (possibly) a real estate group. NOTE – Rumors spreading that a group of fly fishers have purchased the stores appear to be false.
Category: Clothing, Equipment, Fly Shops, Fly Tying, Industry