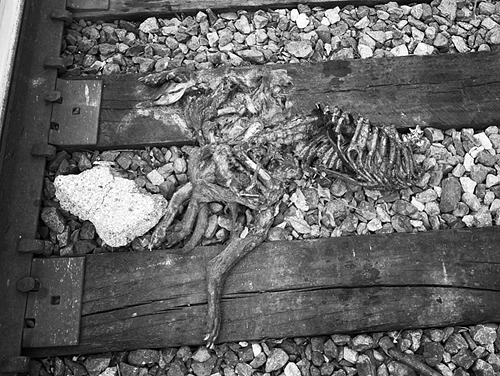 Anybody looking for their lost pitbull? A source told me that it used to have a pink collar around the head that was detached and thrown over to the side of the tracks (a clean cut).
As you can see, there's not many places I won't go to get a fly fishing story! That includes the headless-dead-pit-bull-on-the-tracks territory. To be fair, I was warned there could be a few carrion surprises along the way to this spot south of Fort Worth, and sure enough …
I wasn't too surprised to find these urban spots to be under the weather in a manner of speaking – leaves covered some of the best looking holes, and the cooler weather is making the creek and river carp bite a bit lackadaisical. It's all to be expected this time of year, and the sheer lack of carp numbers make any spotting of a carp nearly like spotting "Nessie"  in the loch.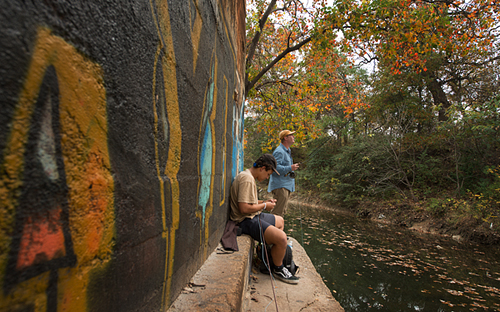 It's not that all variables were against our merry band of hardcore fly fishers yesterday, but no sun, low sun, leaves, cloudy water, inconsistent weather – all added up to make for a slow day, but then this is another one of those "epic" stories I am working on, and who knows when the photo-fish-writing gods will all get in line and deliver?
I expected the latter variables, but the blanket of leaves turned my mental wheels to Oklahoma, and I realized yesterday that if there are this many leaves on the water here, there are thousands more covering the Blue River right now. And that makes the Blue beyond frustrating. So for now, we are planning to hit the Blue on Black, and continue to gather intelligence (which I obviously lack) on BendBow*.
SO WE HEAD IN
So we head into another work infested weekend. It's not really the work that's the problem, it's the screaming halt to momentum and total lack of economic progress that comes from the work. And there's not much at the end of that rainbow: We are going to  squeeze a Blue on Black in next Friday before getting back to my sisyphus existence on the same day.
I can't imagine much is different year-to-year-to-year (times 10) at the Blue River, but I will check in with old friend Barry Shrader to see if the pulse has changed at all. I do know there were rumblings of new legislation regarding guiding in Oklahoma, legislation that would codify the grey areas, and agreements that surround the Blue River (and other locations in OK?).
*I did get a piece of information on brown trout in the spillway, and where they are located. I also heard the temperatures beyond Zone 1 Beaver's Bend, are still too warm (with one spot being an exception). I guess I am still a pretty good listener …
Category: Adventure, Body-Mind-Soul, Complimentary Reading, Culture on the Skids, Soggy Bottom Boys