fly fishing texas drought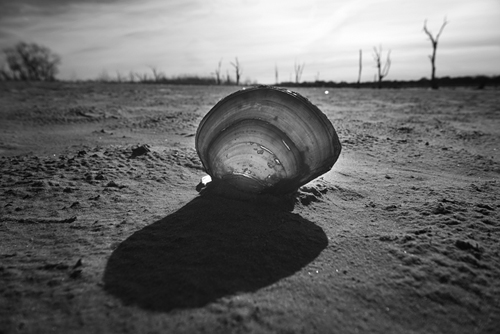 Open shell. Lake Ray Roberts, Texas (Lake Level -7.39 01/16/14)
Maybe it's time to pay more the most attention to our surroundings as fly fishers. I know the vast majority of TFC readers don't ply your fly on big lakes like I do, but if you do, then you know just how difficult that has become with the third year of drought well underway here in Texas.
As I was cruising the flats of Lake Ray Roberts, Texas, yesterday, I wondered how things would ever recover. The "flats" are either dust waiting to be blown away, or armpit high weeds going nowhere. Let's say the water refills this spring, raising Ray Roberts seven plus feet in a couple of months (yeah, I know it's impossible), you're still fishing in those weeds until they decompose. Water is one thing, but complete recovery will obviously be another.
I put all that thinking away yesterday, and pulled out the camera to begin to document the drought in a more serious and determined way. I would never presume to call it "art," but more of a visual document that it seemed like the right time to get started with – because the drought isn't going away, and true, conscious, mandated conservation hasn't arrived in Texas freshwater either.
There's no need to run all the images, and the Ray Roberts documentation is just beginning. If your water, your lake, is suffering, please feel free to tell me about locations you think would be good photography – wherever you are in Texas. If there's an interesting archaeological aspect to it – even better. Dust will be pretty boring until it starts blowing.
Category: Culture on the Skids, Life Observed, Science and Environmental