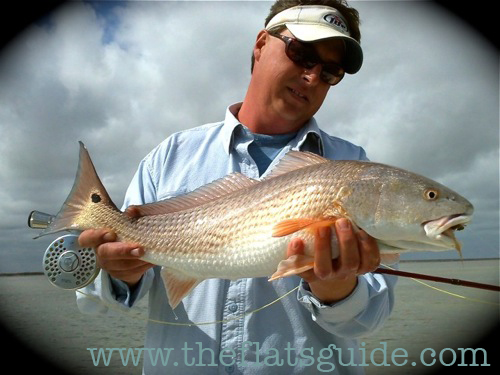 This Lower Laguna Madre Fly Fishing Report is brought to you by Captain Mark Becerra, www.theflatsguide.com.
WINTER BLUES
Fly Fishing here on the Lower Laguna Madre has been tough the last few weeks! Temperatures well below freezing did have an impact, but mostly on the sea turtle population. Black drum seem to be the most affected fish on the flats next to the mullet and bait fish population.
It is not very difficult for me to keep my head high when I remember that I get to fish well over 200 days a year. Clients tend to stay in when the weather gets tough, but timing the optimal days between the fronts is the key to our success.
On the days leading to two of the strongest northers of the year the tides had us traveling to the extreme ends of the bay to find clear water, which is an unusual problem here. Both Redfish and Trout seemed to be stacked in the ultra shallows of west side lagoons that usually have 18 to 24 inches of water but currently only have 8-10 inches.
Grass flats that we do not normally pole over proved that they could hold the heat and cover the fish were after. Casting at some of the biggest trout I have seen in months proved very difficult with the high winds as well. Carlos, a Monterey Mexico transplant to McAllen, Texas, could not keep the smile from showing through his camouflaged Buff! I can only imagine what would have happened if he got one to take his fly. Next time Carlos!
On a final note. Local volunteers and clubs fighting to help the sea turtles managed to collect over 1000 along the seashore and inland waters – 800 or so managed to survive and were released. Let me offer a sincere thanks to all of you who pitched in.
P.S. – I headed out on Tuesday for a quick scouting trip with Bryan, and the redfish and trout were just where we left them about 2-1/2 weeks ago. The clouds and wind are still the deciding factor on being able to present a fly, but the fish are there willing to eat – if you can tighten the loop. Bryan and managed to stick 6 on what would have only been a half day charter.
Watch the VIDEO from Captain Mark Becerra.
Category: Fishing Reports, Texas Gulf Coast