It's the first Monday morning of fall, in the Lord's year 2013, and it actually feels like fall! Technically, "fall" is correct for the equator, but for our latitude fall arrives Thursday. Who's counting though?
This weeks forecast: Perfect weather for fly fishing anywhere you want to go, but hugely fragmented for me by all kinds of things. A photo shoot in Houston Thursday morning may lead to finally fly fishing the "bayous" downtown in Houston, Texas. That could be redirected by the rain they had a few days ago (I've heard 5-7 inches). I can imagine the bass are moving a bit shallower in the lakes now, as they get ready for the fall feed out. So maybe we will have to do that instead. So close to the salt, it's tempting to just roll on out to Galveston, Texas, and see what's happening there. If that blue water is close, and the bulls are running? I was hoping to get a couple of stories in the can while there, with the valuable guidance by Danny.
Fly Fishing the Brazos River & Lake Proctor Fly Fishing Opportunities
I had a tantalizing e mail in the Texas Fly Caster inbox today. Bass are biting in the Brazos, and there is apprently some topwater hybrid action on Proctor Lake. I have yet to get the details, but there's no telling how far I would drive for topwater hybrid action, and that is a story! I probably won't have the time to figure out Proctor on my own, so if you have any information that will help develop this picture, feel free to chime in.
Remember our motto: "Show, don't just tell, about fly fishing in Texas."
North Texas Fly Fishing
I made it out to Ray Roberts in front of the cool front last week, for an evening recon off the Sanger Boat Ramp. It won't be much longer before they start closing boat ramps at Lake Ray Roberts, so get ready for that. A few carp were out in the low light, but huge swaths of the shore should be overlooked because there's no vegetation present. If it looks inert, pay attention to your instinct, and move on quickly. As Ray Roberts continues to drop, there are potentially fantastic high spots in the middle of the lake, accessible only by boat. I'd be glad to show you those, by kayak, or boat – should the urge to explore (or exercise) hit you. That opportunity is closing rapidly.
With all the water that ran off the City of Denton, Texas, last week, and into Lewisville Lake (aka. Lake Dallas), I will be taking a look at that in the next couple of days. I'm looking for any variable to turn things on here one last time.
SALT ADDED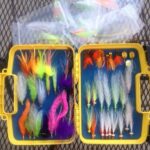 CK is out on the coast with a box full of my flies right now. He's chasing jack crevalle at the Port O'Connor, Texas, jetties, but isn't limiting his scope to just jacks. The science of salt dealt his odds a blow, as there is apparently a huge influx of freshwater to that area, it could make things less predictable. I am waiting to hear from him, and be sure to check the Instagram images for pictures from that trip I just missed (for good reasons). The only thing that compares to being there is having a photo come back with one of my flies in the mouth of a fish. That's a real reward. I had my spot reserved on that trip, but this week's events overtook that outing.
SPEAKING OF FLIES
I may have given the impression over these past six completed years that I don't have much of a thing for tying flies. In fact, I do like fly tying and there are plenty of entire days spent tying when the weather only permits that. And quite honestly, it's a pretty big ego stroke ( … Ego Eats Brain) to see 20-thousand plus views of the Coyote Carp Fly video on youtube. This all leads to a new thing – for better-or-worse – a website called www.flybar.net. Flybar.net is a website repository for fly tying videos. I am not sure how it will look, or when it will launch (October), but videos are still some heavy lifting for internet speeds, and I wanted to see just how the idea would work using a good website design with good tying videos … while keeping big video files off this site. "Good" is a relative term, and you'll notice I didn't say "GREAT!" because I don't know what great looks like when it comes to fly tying videos. They're all mostly so bad (including the one's I am part of).
But there's a method to this madness. Isn't there always? Videos will be shot in the Fly Bar, and maybe we can intersperse it with alcohol, tobacco or firearms to make it more interesting.
Anyone interested in demonstrating their fly tying is welcome to the Fly Bar, and we can take a couple of hours to get that done one evening. It's an evening thing. Anyone. Feel free to contact me.
LAKE INFORMATION
Lake Proctor information on lake level.
Lewisville Lake information on lake level.
Ray Roberts information on lake level.
Category: Adventure, Fishing Reports, Fly Tying, North Texas