bamboo keyboards Sharkskin fly Line and here's a hook in your eye
Gathering snippets from here and there, but there are obviously some really hardcore bamboo guys out there.

I have the final verdict on Shark Skin line and it is bloody thumbs down. It is one of those grand ideas that works for a minority of folks and perhaps I can stretch that to small minority, as word filters back that this stuff definitely cuts fingers and is loud. Add to that the line abrasions on my new Winston rod, and we have an expensive experiment gone wrong. It may be fine for sawing ice off frozen guides, and it may be fine for clean clear running cold streams, but down and dirty – it's a killer.
Speaking of killers … how about a hook in your eye? I had to run this just for the danger factor, lesson learned, early warning. I am still looking for the perfect glasses when the light is gone and my regular glasses are too dark. I guess it's a "professional photographer" kind of thing. Believe me when I say this isn't the worst image.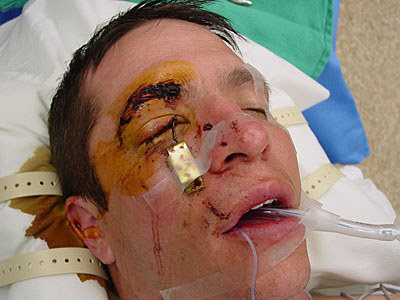 Treble Hook in the Eye.
The rain keeps coming here in North Texas, and is the definition of a blessing and a curse. The cup is more than half full of this blessing and we are looking at a few more days worth of the precip.
Category: Equipment, Fly Lines, Life Observed