Coastal Weather Update from TPWD Aerial Overflight
The overflight was conducted yesterday, and here is this afternoon's information from Steve Lightfoot at TPWD –
"The aerial overflight showed some mortality along the coast, with most fish observed in the Matagorda, San Antonio and Aransas Bay systems. Another aerial flight is scheduled tomorrow for the ULM and LLM. With angler reports of fish in the landcut and field teams on the water, we do expect to see larger fish numbers (including spotted seatrout, red drum, black drum) in higher densities than previously reported. Even as these increase, the numbers should be less than the ~100,000 spotted seatrout reported in the 1997 freeze (that occurred in the ULM and LLM) and much less than the freeze of 1983 (11 million fish) and the 2 freezes in 1989 (14 million fish)."
Excalibur Back in Safe Hands
Regular readers have been following the journey of the Sage XI2, seven weight, for weeks now, and I am happy to inform you that the magical rod's journey ended at my doorstep last night, or is it beginning again?
I have yet to open the tube containing the tube containing the rod. For some strange reason I guess something wrong could be hiding, but here it is.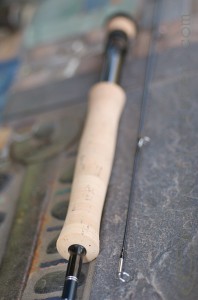 If you missed the saga that lead to this ending, check these posts:
"I Stepped on a Rock and it Rolled"
"Excalibur Meets Its Maker"
WEATHER ALERT again
– After four straight days of subfreezing temperatures last week, and all the problems that go with it here in North Texas, we are again preparing for another bout of cold – starting as early as tonight, and no later than early tomorrow morning. If roads were passable, or you are a stone's throw from Blue River, this is the time. As long as we get some overcast, and some messy weather, you have to get some if you can.
Fly Fishing Reporting
– I am not hearing much from the Guadalupe, and I fear the repairs to the Canyon Dam are ongoing. All will be answered for those attending the Trout Fest in about one-and-a-half weeks.
– Some of you may know I will be part of an "expedition" (for lack of a better term) to the Guadalupe Mountains next week. I will be the photographer for the group that is going to McKittick canyon to look at the viability of reintroducing Rio Grande Cutthroat to a small stream there. It's a joint effort that includes National Park Service, Texas Parks & Wildlife and Trout Unlimited national and Guadalupe River Trout Unlimited. I will try and get a preliminary story ready on this for your weekend reading pleasure – or sooner if the weather goes bad.
– Multitasking in the background are preparations for a trip to the White River region of Arkansas in March. This will be a gathering of like minded individuals near the banks of the famous White River around the time of spring breakers exoduses. I have tasked myself with creating a good supply of midges which are a welcome departure from Clousers and saltwater patterns. Tying 14's, 16's and 18's has exposed my weakness in lighting, coordination and tying supplies.
The information we are tying from comes from a very good web site – Complete White River Fly Fishing Website. If you are unfamiliar with the area, the fish or the flies, this is one site you definitely want to set some time aside for – and read it thoroughly.
Fly Tying for White River Arkansas
Virtually all of the (well written and photographed) fly tying recipes on www.tanneycomotrout.com call for Tiemco hooks, and I find them to be priced at a premium for a hook. So when you are ready to tie up some V-Rib Midges or Disco Midges, head over to The Fly Shop and order your hooks there. They have proprietary hooks that appear to be copies of the most popular Tiemco styles – even using the same Tiemco numbering in their own hook style numbers. You will always find a link to The Fly Shop in the links on the left column of Texas Fly Caster. I also checked in with Stephen Woodcock at Backwoods Fort Worth, Texas, and he has a few supplies worth the drive – d-ribbing in the midge size, and I bet I can find something else those Arkansas hogs will eat while I am there.
Category: Causes, Culture on the Skids, Equipment, Events, Fish Kill, Fly Rods, Fly Tying, On The Road