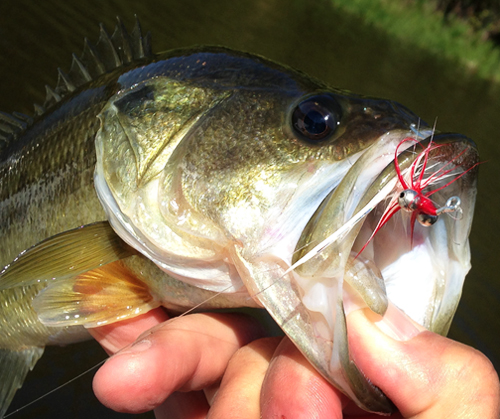 east texas fly fishing in texas
You may have watched me wander, and wonder, about the whole East VS. West debate (of my own making) in the arena of the most important thing we consider here – fly fishing in Texas. I continue to research this topic at great personal cost – my casting muscles are a bit sore today, and I may have ingested an intestinal microorganism on one of the East Texas ponds I fished over the last two days – but the research continues with new data for you to consider this Monday morning.
And, by the way, welcome to another week of what looks to be beautiful weather here in Texas. Welcome to wherever you arrived today, and I hope you didn't participate in that debacle that is I35E north of Dallas last night (the north bound was shut down for hours last night due to a donor-bike accident).
FLY FISHING AROUND THE EDOM TEXAS FESTIVAL OF THE ARTS
The show for Cimarrona in Edom, Texas, was a breakout success, and I was able to not only touch base with long time Tyler fly fisher Dr. James Koukl (DJK), I also accepted pounced on an invite from Dr. Christopher Walker (DCW) to fly fish a private pond he has access to and has done much of the biological maintenance on – not far from Edom. I had met DCW a couple of weeks on a chance encounter at a camera store in Dallas, Texas.
Saturday, DCW called and wanted to move our outing up from sunset to early afternoon, and since the wind and cooler weather was kicking in, that made good sense to me. It also made sense because the Cimarrona booth was going great guns; packed to the hilt with customers suddenly ready for cold weather hats and other accessories. Preliminary numbers circulated that 5-thousand people visited the Edom show on Saturday. That's pretty significant for a town with a population less than 400.
We loaded up and took the scenic route back to this pond, twisting one-and-a-half lane pocked asphalt turning at Texas size 90-degree angles around pastures, through sloughs, into the bottoms, past a rebuilt church (rebuilt from arsonist ashes), and finally arriving at a coded gate. That's one thing you will notice when you run in East Texas – a road length of nothing, then a fancy entrance, or gate in (what you thought was) the middle of nowhere. The odds are pretty stacked against poachers here, unless they have backside access, and then you would already know who they are or how they got there.
As for me, I was completely lost and wondering … if it wasn't the old switcheroo to get me so turned around I would never find that gate again (as if I am a poacher!)? I don't think that was the case, but finding north would have been a real task.
We drove down to the pond, with beautiful nearly clear water, but this pond has been taking it on the chin too – at about four feet down from normal lake level. DCW had taken the time to lay in some structure along the middle of the upper end of this pond – submerged logs and brush that I could clearly see four feet down.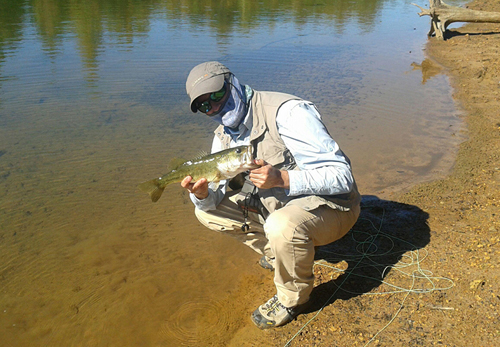 Nice bass caught Saturday afternoon.Photo Courtesy – Dr. Christopher Walker
"We were having a lot of trouble with the clarity on this pond and we talked to TPWD," about what to do about the clarity, "and they suggested a lot of equipment and broadcasting lime in the pond," DCW said. "We weren't going to spend the money on the equipment, so we used a barge I have for building boat docks, laid a sheet of plywood across the back, broke open the bags of lime and washed it off into the water."
I can't remember how much lime he said it was, but it was tons. "At first I thought it would burn the scales off the fish, but the sediment dropped out," and the pond took off he said.
We worked our way around, and I finally hit a pocket of bass off the deep end of one of those logs, and they kept on coming. These fish were very healthy, although they were a bit sluggish from the colder weather – sluggish until they figured out they were caught, and then it was an ariel performance. They ranged in size from about a pound to a little over two pounds, and had that deep green coloration – deep green, like East Texas green.
Soon enough, he had a phone call, and we had to go. Back at the Edom Festival the Cimarrona booth was wall-to-wall people. Business was very good this year compared to last.
LODGING NEAR EDOM TEXAS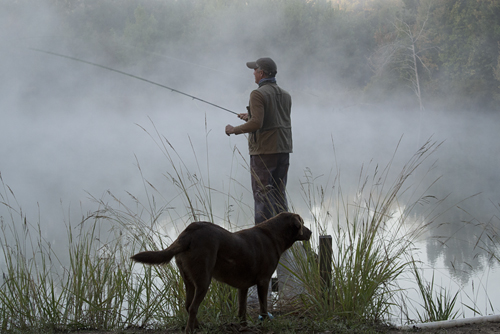 Leslie took this photograph. I count myself lucky to be in it (I'm the one on two legs).
LK took the time to think about where I might like to stay on Saturday night, instead of staying in Tyler, and she found the Wood Haven Cabins a little ways outside town. The cabins would be perfect for smelly fly fishers such as myself – half-baths, no hot water, and right on another of those East Texas ponds – but they were tight to share, and the interior decorator was definitely pandering to those of us with fish on the brain – big time.
I'm sure that pond is on in the spring, and the charm makes it a place to consider staying with your significant other. She could exit the cedar cabin, and find a comfortable picturesque place to read or conventional fish if he/she wanted, but fly fishing from shore would be a tough task. The vast majority of these ponds don't think much about fly fishing backcasts, and they're so calm that a roll cast would do more harm than good. Sunday morning the little pond was cold and fogged in. My fingers began to feel the bite … cold again, for the first time in a long time. A few covering casts with a "guaranteed" fly, and I knew it was time to go to work. The fish at Wood Haven Cabins were colder than I was.
SUNDAY
There was nothing on the radar for fly fishing on Sunday as we arrived to reopen the booth. I went over to visit with DJK at his booth as people were slowly winding up to let loose another day of selling. The previous day, DJK whipped out his phone to show me some fantastic photos of he and his son bone fishing earlier this year (watch the end of the slideshow for those). Big bones. Big, big bones. We shot the breeze for a little while, and I headed back to the booth.
When I got back to the Cimarrona booth, one of our other traveling vendor friends had dropped off a map. Drawn on the back of a small card, it showed the directions from a "gate" to another "coded gate" and a twisted line around and to a lake. That's kind of how it works in East Texas. Everyone has ponds, and you can get lucky sometimes. I backtracked to find out where the original drawing came from, added some notes, someone made the call to let them know I was coming, and I was loaded and off to find the place – down more of the East Texas piny roads as mentioned earlier.
And I was lost. And I lost time, about forty minutes of good fishing time, before, through a surprisingly good phone connection, I was talked into the property. (NOTE – Don't count too much on cell phone anything out there)
I rode with Jay to his huge shop where we loaded a battery for the aluminum pontoon boat in back of the brush hog, and we rode down to the dock. This was not a pond. It was a beautiful lake that wound around for acres, with trees drooping over the water, a dam at one end and a couple of fingers to the left. The wind was gusting right down the middle, so I cast off, hit the trolling motor and putted across the lake to a sheltered finger. The pontoon boat appeared to be brand new, and about fifteen feet long. Once I was in the cove, I anchored and started casting a black Seaducer. Not only did bass smack it, but the clarity was so good here that I could actually see them take!
These bass were fighting like it was mid springtime. They took and fought hard, had great coloration, and every single one of them had a strange characteristic. I guess because the pontoon was the only structure around, every single fish ran under the boat – first thing. It happened so much that I was struggling to get to the reel, and left with a lot of line on the deck most times.
To make this insanely long story short, I fished a few guilt-ridden hours (while LK worked the booth at the Edom show), and was completely spent by the size, fight and quality of these largemouth bass. Temperatures seem to have hit an equilibrium where they were raring to go, and they hit black/black Clousers, black Seaducers and white Seaducers. I have to say this pontoon boat may not be sexy, or maybe is anti-sexy, but it's a heck of a cheap and practical fly platform.
Upon leaving, Ruthie, wife of Jay, said, "Come back anytime. It needs to be fished! That's what it's here for!" Music to my ears. "Nobody's ever fly fished it, so it's good to know you did good," she added. More music.
NOTE – Obviously there is still more water east of the I35E corridor than to the west. It's just easier to come by in East Texas – always has been, always will be. While there are thousands of ponds, many of them are not even close to being able to handle a fly rod. Believe it or not, theres' trees in them thar woods! And more often than not, they butt right up against the family pond.
PS
The end of the slideshow contains images from DJK's bone fishing trip and info he sent along. He writes:
"We flew from Dallas to Miami then a hop to Exuma. We flew into Georgetown Airport and were picked up by the Sandals Resort folks and taken to the Resort which is located around Emerald Bay on the north part of the Island. Our guide, Drex Rolle, picked us up at the resort and drove us to the south part of the island south of Rolletown and we fished the flats around that area called Little Exuma. $425 for two -rods included."
Category: Adventure, East Texas, Fishing Reports