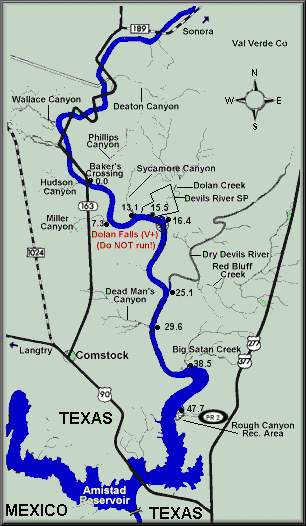 FROM TPWD REPORT on DEVIL'S RIVER
New TPWD Policy Applies to Paddlers Accessing River Via TPWD-Managed Lands
AUSTIN – Beginning Feb. 1, any paddler planning to put in or take out of the Devils River on public lands managed by the Texas Parks and Wildlife Department in Val Verde County must first obtain a permit from TPWD.
The new Devils River Access Permit is a key component of a pilot program designed to provide opportunities for responsible, resource-compatible public use of the Devils River, while respecting private landowner rights and protecting the ecological health of the river and its fragile ecosystem. Implementation of a permitting system was one of the key recommendations of the original Devils River Working Group that endeavored to strike a balance between private landowner rights and recreational river use by the public.
"We believe that with this new permitting process the department has done due diligence in following the recommendations of a diverse group of landowners, conservation organizations and paddling groups," TPWD Executive Director Carter Smith said. "The permit system helps strike a balance between private landowner rights and the rights of the public to access the river for recreation. We will monitor how this pilot works and can make adjustments if needed."
TPWD will issue up to 12 day-use launch permits and 12 overnight-use launch permits per day. Before launching a kayak or canoe on the Devils River, each paddler must obtain a permit, although the trip leader of a paddling group may obtain all permits for members of the group. Permits will cost $10 per person and may be obtained 11 months in advance.
Permits will be needed by any paddler planning to access the river at either of the two Devils River State Natural Area units, as well as Baker's Crossing. The Baker's Crossing bridge area on State Highway 163 is being managed by TPWD under an agreement with the Texas Department of Transportation. Most lands adjacent to the approximately 37 miles of Devils River from Baker's Crossing to Amistad Reservoir are privately owned and off limits to paddlers.
The Devils River State Natural Area consists of the original 20,000-acre state natural area that's now called the Del Norte unit, the newly acquired 17,000-acre lower river area that's been designated as the Big Satan unit and the Baker's Crossing unit. The primary purpose of the state natural area is to protect natural and cultural resources and provide opportunities for limited, resource-compatible use.
To learn more about the permitting process, river etiquette and the unique challenges of a Devils River trip, paddlers should visit: http://www.tpwd.state.tx.us/state-parks/devils-river. Beginning Monday, Jan. 14, contact TPWD Devils River Reservations at (512) 389-8901 to apply for river access and camping permits and to learn about commercial outfitters. Camping fees apply at the Del Norte's San Pedro Point paddler camp and at the 29 Mile paddler camp. Reservations are required.
Category: Destination Fly Fishing, Devil's River, On The Road, South Texas, Texas Hill Country