This is a continuation of Day 6 as we're headed to Rocky Mountain National Park, just up the road from Boulder, Colorado.
"He doesn't come in here unless he's booked for a trip," he said. Well can I check his phone number with you to see if I have it right? "I have no idea what his phone number is," he said, short and not so sweet. OK, welcome to Boulder, now go home (I thought to myself). It seems the somewhat cryptic "we're the nice fly shop" had new, clear meaning. This secret shopper just let the secret out. i guess it's a good thing my opinion doesn't matter. The last I read, they're moving into a brand new location, but you will still find Rocky Mountain Anglers at 1904 Arapahoe Avenue in Boulder.
We moved on to the Boulder REI, where we got plenty of undivided attention as I tried to solve the problem of stinking gear and Subaru Forester overcrowding. In Colorado, and out west, just about every car you see has what I call a "capsule" on top of it to hold the extra gear when doing their summertime thing. The two major makers are Thule and Yakima, and they are very proud of their vacuum molded plastic "capsules." This was one of those purchases that I knew would hurt at first, but feel better over time. It didn't take long, getting the stinking gear out of the Subaru went a long way toward happy occupants. The helpful sales person at REI talked me through the purchase, and through the door with him holding the other end. The Thule has a "universal" fit, and we centered it up and were loading some stinky camping gear in less than ten minutes.
Estes Park Here We Come
Since Leslie's son was out of town, we decided to head north on 7, and see if we could get in to Rocky Mountain National Park (RMNP) and get a camping site. Neither of us had any real, modern experience in Winter Park and RMNP. I had been there on a solo road trip in about 1999, but passed through without stopping at RMNP. I couldn't even recall ever being in a "National" park, so imagine my surprise when we got to town and there's this huge tourist information center in town on 36, and it's packed with cars, RV's and buses. We passed that by and went to the main (east) entrance on 36 and waited in line to get to the booth. There were a few open booths, and cars and RV's were going to the window, talking and listening, passing through and turning around and leaving. The handwriting was already on the wall.
"Do you have a reservation," the friendly National Park employee said. "No," (of course not I said to myself) I said. He told us we could go in and check to see if someone doesn't show up. We asked about other campgrounds outside the park, and they turned us onto a location south of town, down 66 back the direction we came. It was getting late, the summer monsoons were still following us, so we decided to backtrack.
GO Here STAY Here
We stopped at the Hermit Park Open Space park office, and the park turned out to be a county park woven into some mountains just far enough away from the city and park (about two miles), to be almost unknown. From what we saw, it isn't an RV or big trailer friendly park, but it can handle pop up trailers and is perfect for tent camping. This park also has an absolutely fantastic series of of cabins that would be an absolutely perfect get away. The tent sites are spaced far apart, and you will be literally on the mountain sides with boulders to climb on, walk around, and bird watch. I cannot recommend this site highly enough, at least if you are a road tripper like us, who doesn't exactly rely on planning ahead and reservations.
We got set up, as the clouds rolled in just overhead, and had time left to do the routine writing in journals, putting on the fleece and rolling out the Therm-A-Rests in our car camping tent. We knew we wouldn't be staying in the RMNP this year, but from the crowds we had already witnessed there, we weren't feeling disappointed.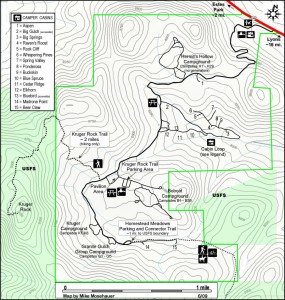 Category: Colorado Report, Culture on the Skids, Fishing Reports, On The Road