Thanks for hanging in there while other, more time sensitive, stories got in the way of the Colorado Summer Trip of 2010. This series is just about over, and I hope you have enjoyed the ride thus far. There's no fish on Day six, so the only thing you will find here is information about Boulder fly shops, Rocky Mountain National Park and other people, places and things along the road travelled.
Today we awoke in the plush of civilization. After we agreed not to set up camp in the rain, we had landed in Frisco, Colorado, and went to the end of the drag where we put the "no" on the vacancy sign at the Snowshoe Motel. Apparently there's a bike (bicycle) rally coming through town, and the only room left was a suite above the office. Kitchen, big bathroom with jacuzzi and king size bed – all went a long way toward soothing Leslie's aches. That alone is worth our Four Star rating.
No fish yesterday, and the prospects for today look like a lot of car time and another unpredictable endpoint. We loaded up and headed to Interstate 70, and east toward Denver. We knew better than to consume any extra time going all the way to Denver, so we exited 6 and hit 119 to Black Hawk, Nederland and on over to Boulder. If you ever want confirmation that aliens have landed, look no further than Black Hawk, with its casinos nestled into the canyons like the Pueblo and Anasazi ruins of the North American Southwest. In a thousand years the archaeologists will be digging up casino chips and writing books on what they think they might have been used for. Either that, or the Native Americans will have already been in control of the US for several generations, and casino chips will be our legal tender (this I like).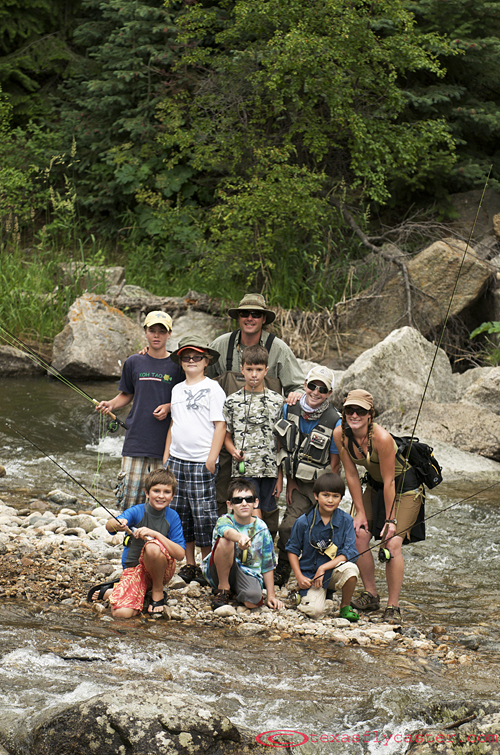 This, fellow fly fishers, is what it's all about isn't it?
Between Nederland and Boulder, as we began descending into Boulder, we spot something out of the corner of our eye as we round a corner. I pulled off quick enough to get onto a dirt road that cuts around the front side of a huge rock face, and the other side of the dirt road has that old familiar sound … the North Boulder Creek. I have never been this far up from Boulder, so we decide to take a stop and look. Cars parked on the right of the road have a host of skinny guys craning their bird necks up – at tiny people climbing the face of this rock. On the right, rocks and pools of a stretch of Upper Boulder Creek that have to be seen to be appreciated. It's like a park for all that is fun – climbing, fly fishing.
I spotted some young kids fly fishing, and went back to grab my camera. It was getting interesting even if it wasn't exactly expanding the knowledge base of a Texas Fly Caster. How often do we see youth fly fishing classes in Texas anyway, and how often do we see ten boys age eight to twelve fly fishing together all at once? All I can say is the future looks brighter after taking that photograph. In talking to one of the instructors for Rocky Mountain Anglers in Boulder, this was a class taught in the summer for this age group to learn to fly fish.
We eased our way into Boulder, the largest town we have been in in quite some time. Boulder has it all, and it all costs money. Take for instance, the racket they have on parking in Downtown Boulder, Colorado; you have to go somewhere to get a little piece of paper to put on your dashboard to show you have paid to park. The little round signs that are about ten feet above the sidewalk state this plain as day. And if you are a local, you know these things, but if you are an out-of-towner – CHA CHING – let's tack on an extra 15. to that lunch shall we? Welcome to the People's Republic of Boulder, a place that lives up to the hype – IN EVERY WAY.
When someone in the group at the Boulder Creek fly fishing lesson commented that Rocky Mountain Anglers was the "nice fly shop", it gave me pause and stuck in my mind. So, I had to hit the one fly shop I think stands tall in the Colorado fly fishing retail saddle, and that's Front Range Anglers on Broadway. I was looking for someone who I thought worked there anyway. I walked in and was immediately overwhelmed as I am every time I am in there – by the sheer width and depth of inventory. If it's fly tying materials you want, they have it, and that's just the cheap stuff. They also have every bag, vest, reel, rod … you name it they have it. So after grabbing some spectacular new shades of zonkers and other various items, I made my way to the counter and asked about this guy I was trying to find.
To be continued …
Category: Colorado Report, Culture on the Skids, Fishing Reports, On The Road