taylor river fly fishing for trout colorado rio reservoir #flyfishing gunnison river
I knew what I knew, and I saw what I saw. The previous day, the worm fishing Texans had delivered a can of whup to the trout making their way out of the Rio Grande Reservoir and up the Rio Grande River. They were catcher-killers. There's really nothing wrong with that as there was nothing even remotely native about the fish, and I guessed that at that altitude the entire area is a block of ice topped with several feet of snow. So as their biceps strained to keep the spotted tails from dragging, I took note.
As any smart, or down on their luck, fly fisher would do, I struck up a conversation. "It was on early, but it pretty much slowed down later in the day. Everybody caught their limit today and yesterday," he said. I couldn't help but think … that's a lot of trout. I could hear their wives back at the trailers, "Where are we going to put all this fish?" If they were eating that much trout a day, I would give them a year to live before succumbing to mercury poisoning.
One of the Texans said, "You might try up river where there's a Y, and take the Ute off to the left. I heard the fly fishermen were doing pretty good up there." From ground level, you can see where there's a confluence, but I assumed it was the working of a meandering river that cut multiple paths through the, flat as home, valley. I put that in my memory banks, and secretly planned to get back to their spot much nearer the Reservoir, stand in their spot, and catch (and release) their limit for the next day.
Day 2 On The Rio Grande River
One thing I knew for sure, they weren't geniuses – the trout that is – if they were scarfing worms on a hook, I didn't see call to match anything much at all. The area was flat grassland with rocky bottom that turned to silty mud as it flattened and widened at the Reservoir. There would certainly be some aquatic organisms trout would take if they came, but yesterday's stringers had all the characteristics of stocker trout with stocker brains. Grassland terrestrials seemed like the ticket, and the trusty bunny fly had delivered a couple of strikes the day before.
I was going it alone this time, and basically taking on this stretch like a Sherman tank – waders, fly vest and a day pack. And just to make it more complicated, the Kodak video camera, food and enough water to last all day. Of course I knew I only had a few hours, but I could shout like a tree in the forest, and no one would be there to hear … better safe than sorry at this location.
I had to get a shot at the fish I had seen taken out the day before at the Rio Grande, and although it had rained a lot in the past 12 hours, I headed back up the road to the Reservoir with the cutoff to be back in town by noon. We were heading for the Gunnison River and don't like to pitch tents in the dark. Monsoon days in Colorado also mean the rains come in by about 4pm, and another drag is setting up a tent in the rain.
Intermission: Watch the video.
This is a long video verging on movie, so feel free to fast forward or … heck … watch it in slow motion! Anyway, this is some crazy rainbow trout action. It is also a very large file. Thanks for watching.
I managed to tare myself away from the river and trudged back to the canyon, climbed out and massaged my weary arm on the drive back down to Creede. I was still stunned by what had just happened (watch the video), and knew it could be a good thing or a bad thing. When I go through "one of those days" – a day that surpasses catching – it leaves me with a high that always eventually crashes. There just aren't that many "of those days," so we all take them with a grain of salt and sometimes we are lucky enough to get a few pictures to remember them by.
Once I got back into town, we loaded up and made our way out of Creede on 149 toward Gunnison. I'll say it again, there aren't any straight roads in the heights of the Rockies. We meandered into Lake City, another of those jewels that I had not heard as much about, but worth a stop for lunch and fly shop perusing. It's backed up by the Lake Fork of the Gunnison, and there is plenty to do for families as well as fishers. Put Lake City, Colorado on your must stop list for the next time you are in that part of Colorado.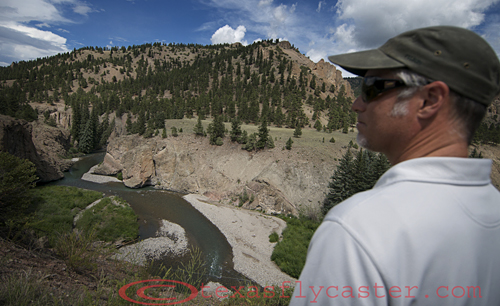 Along the roadside just outside Lake City, Colorado. It's where the south begins to blend into the north.
We knew we were racing the monsoon clock, so it was onward to Blue Mesa Reservoir, around the Reservoir, and onto 50. From 50, it was north to the town of Gunnison. The most reasonably priced gas was in Gunnision, so we filled up and I checked in with Joel Hays.
I think the change from Southern Colorado to Northern Colorado starts right about here. If you are smarter than me, stop before the climb onto Taylor River Road (CR 742), and hit a fly shop – hit it hard, for information and what every smart monster trout in the next chapter loves – mices shrimp.
We went right past some shops and finally stopped at Lodgepole Campground, secured the last site and settled in for the night. I crossed the road to wet a line, had a couple of nudges, but after the morning at the Rio Grande, I knew I was tempting the fish god's fate. The perfect day was just about over and I needed to leave it that way.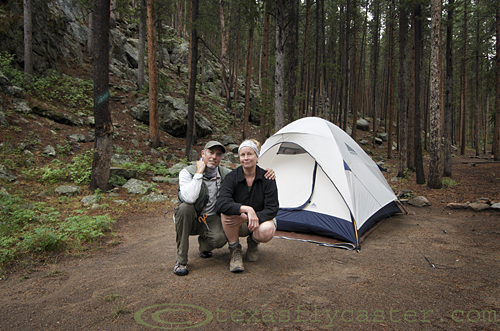 End of the day at Lodgepole Campground, along the Taylor River.
[/ppw]
Category: Colorado Report, Equipment, Events, Fish Podcasting, Fishing Reports, Fly Reel, Fly Rods, Technique