Welcome to a new week of fly fishing madness, as spring is officially underway across Texas, but taking a good hit this week in North Texas. While much of the state has settled in to spring flowers and showers, North Texas is headed toward some violent weather and rain starting Tuesday, and killing fishing for at least two days after that.
Many of the creeks around here are flourishing with sand bass now, and rumors of hybrids in creeks (off lakes that have hybrids) abound. While all I can tell you about fly fishing is what's happening in my neck of the woods, as we know the further south you go, the more ahead of the (earth's) curve you are.
So as you go south, you will already have bass in shallow and spawning, gar suspended like logs, carp sniffing around and crappie and sand bass all on the active list. Depending on your water, you could catch one or all of these in a day, and if you had to move a couple of times … two days tops … on foot and with a fly rod. (I managed a 40-inch alligator gar in the flats the other day on a clean take – talk about pissed off fish.)
That whole idea of Texas fish diversity, plus a guy from California who I talked to about his "species list," started me thinking about the diversity of Texas fish species, and just how many species one could catch in Texas in a year. Texas is extremely blessed to have the best of both worlds when it comes to fly fishing; saltwater and freshwater. And I've seen contests for species counts in the past. They usually have some kind of time factor built in, and are limited to freshwater (around here). I think a friendly contest that lasted an entire year, and included both salt and fresh water would be worthwhile. Maybe we could find someone willing to give away a skiff as a prize? (FAT CHANCE!)
Yeah, I have boat on the brain right now. Even though I am in the midst of (re)building the ultimate portable fly shack, aka. Airstream, I was peppered with photographs of my friend Clint's new boat all weekend long. (Keep the photos coming and get some slime on that boat CLINT!) I also have two friends, both a bit older than myself and with considerably more stable income, who are essentially looking for the same boat. I'm their extra set of eyes. All they are looking for is a used saltwater skiff that has never been used in salt water. Get the picture? All I am looking for is a winning lottery ticket too.
We are much closer to having the Airstream ready than I am to ever having a screaming Hell's Bay boat – that much is for sure. While the Airstream doesn't float, or need a 250 VTec outboard to get it going, it may end up costing as much in the long run. The main caveat: It does extend the outdoor escapes, and it does it for LK and myself at the same time (if we so choose). If my labor cost, blood, sweat and tears had value, then the Airstream passed priceless sometime last summer. The last two days were most significant as the 1970 Safari went from two pieces to one, in the conclusion of what "Airstreamers" call the "Full Monty." Strange as this may sound, the year 1970 now qualifies the Airstream as "Vintage," but the final design we are creating would make the "restoration" folks turn over in their graves … err, Airstreams. Let's just say we are making lots of "improvements" on this ground-up restore. You can always read more about the Airstream project at www.airstreamdiary.com.
A LOOK AT THIS WEEK
There is going to be a lot of "indoor time" as the weather shuts things down around here for at least two days starting Tuesday. Stories include (but are not limited to) the general news release plus an audio interview with Palmer Simpson about the Lydia Ann Fly Masters tournament coming this July. This tournament benefits Casting for Recovery and all funds are dedicated to the Texas organization of Casting for Recovery.
I'm not sure how many of you viewed the video of catching grass carp on fly, on Lake Conroe last week, but if you hate seeing that kind of stuff, the head mounted GoPro video, etc … you better speak now because as long as I am fly fishing solo, that looks like the way to do it! I have to tell you; my early reviews of the GoPro 3 Black are a bit mixed right now – more on that later.
Be sure to tune back in here this week, but if you don't – BE SURE TO GO FISH – as the spring fly fishing action elsewhere in Texas is hitting full stride.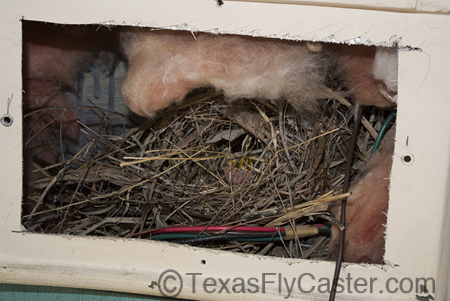 You know when birds start to nest in your project that it's time to get it done.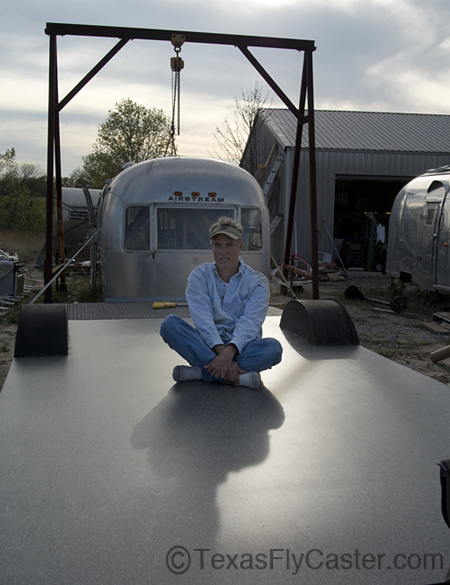 Sitting on the floor of the Silver Fly Shack – before it goes together.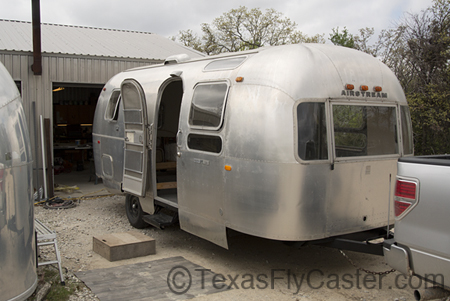 Back together again and ready for the final build back.
Category: Culture on the Skids, Fishing Reports, North Texas