Greetings!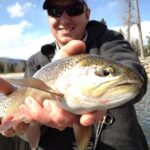 Summer is finally here! We have been seeing great dry fly fishing the last couple of weeks. The Upper West Fork still has some salmonfly activity but it sure seems to be settling down. As the transition happens look for the fish to switch their focus to Golden Stones. As for the main river, we are starting to see Golden Stones and Yellow Sallies. We have also been seeing lots and lots of Green Drakes, Grey Drakes, Brown Drakes and PMD's. Even on sunny days! The fish are readily taking the mayflies, so if you see rising fish try a parachute pattern like the Purple Haze, Adams, or a Brown, Green or Grey Drake to get them hooked up. If you aren't getting much action on the surface don't be afraid to hang a dropper off of a Golden Stone. Rubber Legs, San Juan Worms, Prince Nymphs and Hare's Ear's should all bring fish to the net.
Our shop is fully stocked up for the summer and we have a TON of new fly patterns and of course we still have the old standby's. We have lots of new apparel as well, and all the miscellaneous odds and ends like tippet, floatant, tapered leaders and such to make your day of fishing even more enjoyable.
With the hot weather approaching watch for changing conditions on the river. The flows are fluctuating with small bumps at night and then dropping a bit during the day. As this happens, it has the potential for new obstructions in the river. Keep your eyes downstream if you are floating and be prepared for surprises. We haven't been getting a lot of reports of new problem areas, but the potential is there. Also, don't forget that with the hot daytime temps we are having, you need to drink more water. Nothing can ruin a great day of fishing like getting sick from dehydration. Keep hydrated, be safe, catch lots of fish and for gosh sake's HAVE FUN!!!
Sincerely,
Jeff Gray
Western Flies and Guides
NOTE – I will run reports from just about anywhere with temperatures cooler than Texas! Feel free to send your reports in, and they'll run – just in case you have a go-cation instead of stay-cation planned. – Shannon
Category: Fishing Reports, Fly Shops, Industry