How to Tie Bass Flies That Work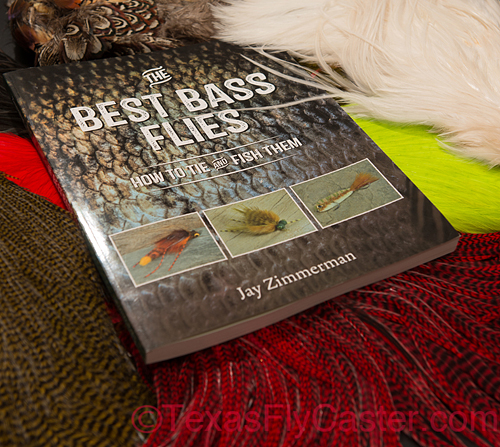 The new fly tying book, "The Best Bass Flies – How to Tie and Fish Them," by Jay Zimmerman, is a great introduction to tying flies, and learning techniques for catching our dominant southern species – the largemouth bass.
One of the first questions Texas fly fishers typically get is, "You can fly fish for bass?"
[ppw id="183910761″ description="Read the Reprinted Review of Zimmerman's Book" price=".25″]
The answer is always "yes," and many conventional tackle fishers probably have little idea how much time Texas fly fishers actually spend pursuing bass on the fly. To pursue a bass on a fly rod may seem like bringing a knife to a gunfight, but from the fly line, to the rod to the fly, the US fly fishing industry has heard the cash registers ring, and developed fast action 7'11" bass fly rods, fly lines, leaders and flies to more easily target our abundant warm water bass.
Once a fly tier and fly fisher gives in to the truth that a conventional fisher will out-fish them on a consistent basis, it's up to the fly tier to adapt his fly tying materials and patterns to flies that often look and act like hard baits, frogs, soft plastics and whatever else he sees working in the conventional fishing world of his own waters.
Along with the conventional categories comes the conventional use for flies, including topwater, suspending and deep flies. These patterns are created using what most fly tiers call "recipes" that include all the materials used in creating the fly. The flies illustrated in "The Best Bass Flies" does a great job of representing each category without burying the fly tier in the dozens of variations and different flies in each category.
This book does a great service to beginning bass fly tiers by emphasizing the need for tough flies that will take abuse, and the photography of the different fly tying steps are very easy to follow. The range of difficulty in tying moves pretty quickly from simple to complex.
Just as important as the fly, a fly fisher has to adopt the hard driving techniques employed by conventional bass fishermen. The how to "Fish Them" part of this book is what gives a new bass fly fisher a good start at recognizing and fishing the rough-and-tumble habitat notorious for holding big Texas bass.
In a day-and-age where most of the fundamentals of fly tying and fly fishing are found on YouTube internet videos, it is always reassuring to have a hard copy, once called books, of fly tying recipes that sit on a page without having to be paused or rewound again and again. Zimmerman also does a good job of weaving in some storytelling that keeps the reader interested.
"The Best Bass Flies" is a great beginning book that covers the bases. If you have never tied a fly before, there's plenty of information about the tools and materials needed for fly tying. In addition, you will learn fly patterns and techniques fishing your fresh flies. This book is certain to get a lot of use by someone wanting to tie the flies and learn the techniques needed to catch bass on a fly rod.
[/ppw]
Category: Complimentary Reading, Fly Fishing for Largemouth Bass, Fly Tying, Literature, Reviews