Lydia Ann Fly Masters Back after last year's Hurricane Harvey Disaster
NOTE – GUYS THIS IS RIGHT AROUND THE CORNER! And it is on a good tide chart this year, so the fishing should be awesome. I am working that weekend – almost For Sure! SO it is up to you to go to Port Aransas, Texas, and do this one for the Gip. YOU GO!

---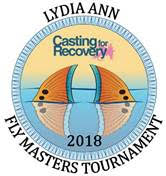 Fellow Fly Fishers and CfR Supporters,
It is time once again to get moving for this year's Lydia Ann Fly Masters Tournament.  We have the date set, venue secured and the web site is up to date and ready for online registrations.  Given last year's unfortunate cancellation due to Harvey, let's come back in full force and make this year the biggest event to date!  Mother nature tore the place apart, but the cities have come back strong!  Let's do the same in our support for Casting for Recovery!
This will be our 8th annual tournament and we are excited to kick things off for another fabulous year!  The venue we use has been hugely popular, and we will be home based at Redfish Willie's again on October 27th.  With the cooler weather and excellent fall fishing, this is definitely one of my favorite times of year to fish the Texas coast.  Redfish Willie's survived last year well, so expect the same top notch venue in their private pavilion for this year's dinner and awards ceremony.
Let's all do our part to get the word out on the tournament so that we can keep it growing and make this the best year ever!  Below are a few ways that each of you can help:
Volunteer opportunities: This tournament belongs to each and every one of us that has participated over the past seven years.  We want to get more people involved in the tournament to help spread the workload and to give everyone an opportunity to support CfR even further.  The biggest area of support we need is to help solicit donations from fly shops, vendors and corporate sponsors.  We can also always use a hand on site for Late Check-In (Friday) and on tournament day.  If you are interested in helping out, please send me an email  at 

[email protected]

 or call/text me at (210) 885-3730 and we can find the best spot for you to help.
Spread the Word: I know many of you are on different blogs, work for different companies, are members of different clubs, visit many local fly shops and run in circles of other fly fishing addicts.  Please help spread the word about the tournament to anyone you can think of that might be interested.  I'm only one person with limited time, so if you see an opportunity to share news of the tournament, please do so!
Save the Date: Of course, the tournament wouldn't be what it is without all of your support over the past seven years.  Be sure to put this year's event on your calendar and go online and register early!  We look forward to seeing each and every one of you again this year.
Join the Facebook Page: We use the tournament Facebook page for updates, sponsor recognition and to answer questions about the tournament.  I encourage each of you to join the page by visiting https://www.facebook.com/groups/110508092316938/
Details for this year's Lydia Ann tournament are below:
Date: Saturday, Oct. 27, 2018
Location: Redfish Willie's Waterfront Grill at Redfish Bay Boat House,
Conn Brown Harbor, 322 Huff Street, Aransas Pass, TX
Format: Fly Fishing Only, Catch/Photo/Release, Separate Divisions for Boats and Kayaks
Cost: Early Registration (October 19th or before) – $65 per angler / division
Late Registration (Oct. 20th – Oct. 26th) – $75 per angler / division
The online registration site is up and running, so please sign up online at the tournament website! 
This makes things much easier on the tournament staff!
Category: Causes, Complimentary Reading, Fly Fishing for Redfish, Tournaments and Contests