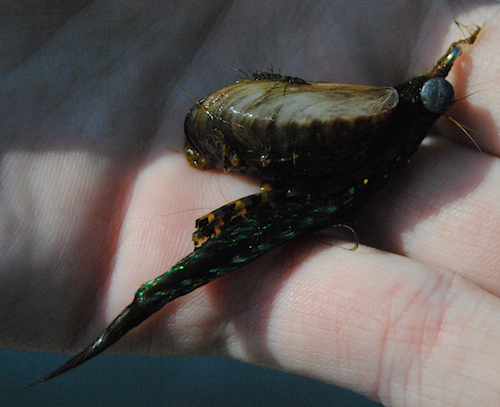 Brush a zebra mussel with a fly, and it could bite back! Photo by – Austin Anderson
In a case of what I'll call "friendly fire" Channel 8 WFAA, Dallas, a Belo Corporation, did an story about the history of water from Texoma being transferred into Lake Lavon. "Friendly fire interviews" (my phrase), as opposed to an "ambush" interview, start as a friendly interview, then turns to take aim at the person they were at first friendly toward.
The friendly fire victim, TPWD biologist Bruce Hysmith, was interviewed and put on the defensive when Channel 8's David Schechecter pressed Hysmith on why he didn't get past the receptionist at the Texas Water Board with a warning about finding zebra mussels in Texoma, and used e mail to notify the North Texas Municipal Water District.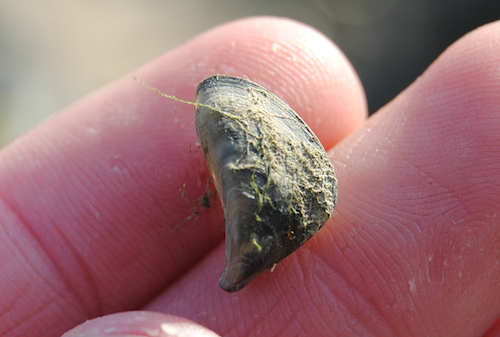 None of us thought our worst fishing nightmare would look like this. Photo by – Austin Anderson
As I recall, the issue really was / is water. The NTMWD wants to keep it flowing, and they would never take it onto themselves to stop pumping. The only they would have stopped pumping is if TPWD told the NTMWD to do so. I believe TPWD, if I recall, didn't think they had the authority to stop the water transfers, and left it up to NTMWD. Get the picture? Hot potato. Channel 8 portrays the delay in stopping water flow as being like unleashing the hounds of hell, which is probably hardly the case when one zebra mussel is found on one boat dock cable.
This story ran on Channel 8 around Thanksgiving, and the most ominous thing about it is the comment from the biologist at UT Arlington zebra mussel expert, Robert McMahon, saying, "you don't want to know what's going to happen …" Ouch, this is going to leave a mark.
The questions I have are –
1) do zebra mussels transport via water transfer?
2) has anyone simply looked at the water below the Denison Dam? Are zebra mussels there?
Here is where you can find the Channel 8 story on zebra mussels from November 29,2011. I have interviewed Hysmith once or twice for Lone Star Outdoor News in the past, and he's been nothing but helpful in my gathering of information.
I am left wondering just how the zebra mussel infestation on Texoma is going to turn out. Should we be doing all the fishing possible before Texoma becomes an inert wasteland for its fishery? I will go ahead and contact zebra mussel expert Robert McMahon at University of Texas Arlington to see if he can finish the nightmare for us.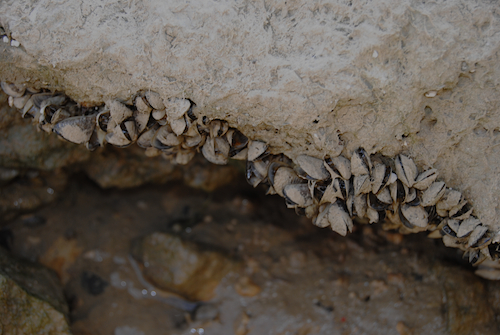 Category: Causes, Science and Environmental