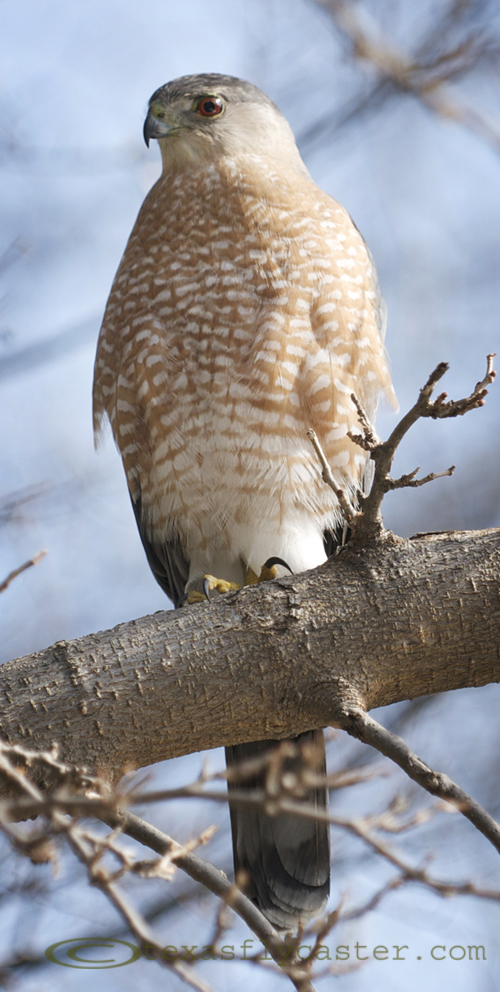 Can someone provide a name for this beautiful bird of prey?
File this one under; "… life was like a box of chocolates. You never know what you're gonna' get." – Forrest Gump
I found this bird perched calmly over the Airstream in my driveway late this morning. When it comes to identifying birds, I am at a distinct disadvantage to Leslie, who is on her way to being a Texas Master Naturalist. She had a couple of ideas about what this beautiful raptor is, but perhaps one of the many visitors to Texas Fly Caster can name that bird, and eliminate the guesswork.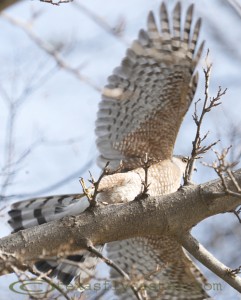 Just before takeoff, it leans back and starts flapping to depart backwards instead of toward me.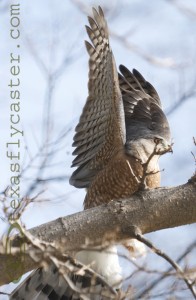 It lets go, and with a single full wing flap, is away.
If you find yourself with the instant opportunity to catch a photograph of something like this, here are a few tips:
1) You're better off using your longest lens to prevent frightening the subject.
2) Bump up your ISO if you find your shutter speeds are too slow to a) stop camera shake, or b) freeze wing or foot motion. A shutter speed of 1/500th. second is minimum to stop motion like this. There is a simple mathematical formula to tell your shutter speed for stopping handheld camera shake.
3) Move slow and smooth.
4) Put your camera on its highest frame rate (ie. machine gun it).
5) If you find a position comfortable for yourself and the subject, switch to manual focus.
6) Fill the frame as much as possible.
7) Always try to get everything right the first time! Don't rely on software to bail you out.
I don't know anyone interested, but I do one-on-one live photo lessons at LivePhotoLessons.com.There are a whole lot of answers on that blog as well.
Category: Photography, Science and Environmental