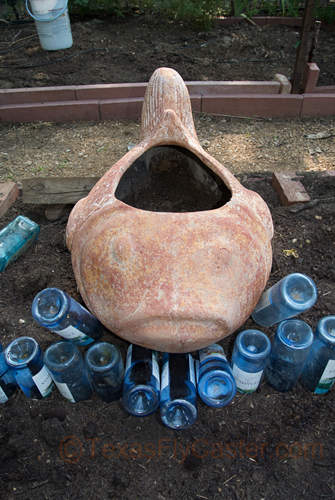 We live in an old house, and when the lots were divided up, local lore has it that the farmer who sold out made sure everyone had a lot big enough to have a garden on it. Regardless of how it came to be, that's what occupies a large portion of our back yard – a fenced in, completely organic garden.
READ MORE —

I won't go into great detail on the insane amount of work it takes to turn a sand pile into rich organic loam, but I can tell you that one of the smartest things (I think) I've done is put a drip watering system on my part of the garden.
This slideshow requires JavaScript.
Conserving water in the garden entails having soil that will hold the moisture rather than let it drain right through the sand to the earth's core. Okay, a bit of an exaggeration, but Denton County is crossed with no less than five different recognized soil types, and the top of the hill we live on is pure sand. Just down the hill, just down the street, it's clay. Our soil amendments include, organic composting, and this fall a partial soil replacement with locally sold "dyno-lite" – a rich and heavy-metal-free mixture available for purchase at the City of Denton landfill.
Denton is way ahead of the curve (with international recognition) when it comes to trash and sewage.
Avoid using any treated lumber or railroad ties anywhere near a growing edible food source. I had the idea of taking some wine bottles (which were waiting for a bottle tree), and raising part of a garden plot I had claimed during the spring preparations last week. One side benefit of using bottles is … they don't absorb any water. My expectation is that water will run down from the elevated bed to the level below – where I will have things, like garlic, to firm up the bottle border with their tall stalks. The fish will have something growing out of it as well, and the runoff from that comes out the bottom and is part of the watering of that plot. We aren't winos, so the bottle border needs more bottles donated to finish.
I am also of the opinion that anyone growing a garden in North Texas should consider shading it with shade cloth. It's all part of our planetary climate zone shift. I am even going as far as to believe I can grow year-round with enclosures for winter as the earth winds down.
Finally, you may as well skip the summer growing season completely – for what future remains. The return on water investment, sans rain, is a big time loser.
HEADS UP
Just to give you the heads up. We are headed to Canada next week, and things could get a little thin for those days. I may try and get something transmitted from there, but don't be surprised if I don't. Heck, you need a break anyway. Right?

ALSO, take a look at the left column. There's a new piece of ad-art I created there, and it's tied to donating to Texas Fly Caster for this juicy organic content by using PayPal. Friends, relatives and countrymen – this is your chance to be counted, not discounted. Extra good fly fishing stuff will come your way by simply donating to the cause. It's a lot like composting actually; good stuff has to flow in for good stuff to flow out. If this method doesn't work, the other income generating content methods (I hate to think about) are much more, shall we say, painful all the way around. So much so in fact … I don't even want to talk about them.
by Shannon Drawe
Category: Culture on the Skids, Science and Environmental, Texas Water Conservation