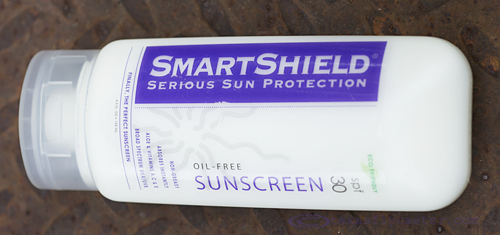 The folks at SmartShield asked sent me a tube of their SmartShield SPF 30 to try and write a review for the product. Going in, I was already a pretty faithful Smart Shield user, after being introduced to it by this area's rep. for SmartShield on a photography job to Tulum on the Yucatan Peninsula a few years ago. That was a lot closer to the sun than we are here, by the way.
SmartShield has several formulations, but this oil free waterproof sunscreen really is the best of the lot. It's the white creamy stuff, so you can easily see where you've applied it, and make sure you have complete coverage. What I am starting to find is sunspots along my neck, below my ears. That must be a place that doesn't get the constant coverage of my wide-brimmed hat or my Buff, and it could have something to do with the leash to my sunglasses making me work the Buff in a less effective shape.
Once you have applied this SmartShield, you hands will feel that typical greasy feeling for about a minute, but then as it completes the drying process, you are left with no residual feeling whatsoever. It's easy enough to rinse your hands after that, and not worry about grips, fly line or anything else you used to have to consider with other brand's formulations. Even if you don't rinse your hands, this stuff becomes completely unnoticeable quite quickly. And what you will find is, their products really do absorb into your top layers of skin which means your pores don't get clogged with oil, and your skin continues to breathe naturally (perspire and cool).
Locally, you can find SmartShield at Tailwater's Dallas, and around Austin and San Antonio you can find it at Whole Earth Provision. In Houston, try Fishing Tackle Unlimited. SmartShield is also a member of AFFTA, the American Fly Fishing Trade Association. Obviously their biggest bonus is their products don't deteriorate fly lines or monofilament and don't kill bait (for the smelly guys out there).
I highly recommend this product as well as their line of bug repellants for those of us closer to the sun, and mosquitoes. This is a great backup to carry along in case you forget an article of sun protecting clothing, and when the heat bares down, and it will, when a Buff is too stifling. One other tip; If you're like me, when casting from a boat deck, you like to go barefoot, or as close as possible to it. Use SmartShield on your feet! Otherwise you may just end up like Bob Marley.
I know a lot of fly fishing retailers stop here, so if YOU carry SmartShield, don't hesitate to tell us where we can find it locally.
SmartShield is a Dallas, Texas based company.