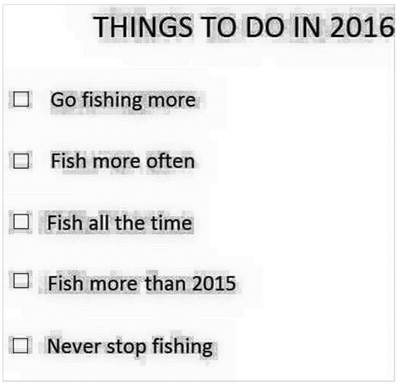 Now that everyone has quit their workouts, abandoned the Dallas Cowboys, abandoned diets [ppw id="133620623″ description="Mind-Body-Soul" price=".10″]
and quietly put away the thoughts of healthy New Year's Resolutions for the time being, I read back across a post I shared on (the hated by me) Facebook the other day. Not only is it valid, I guarantee I will stick to this list of resolutions! It shouldn't be too hard, 2015 was certainly struck by "fishus-interruptus" in the last half of the year as I battled my physical problems.
I think you can hardly say we've waited around for the weather to spring open before we have taken up the fly fishing cause, and started running with it again. We've already spent time on the Texas Gulf Coast's southernmost point, the most clean and beautiful inshore water on the Texas Gulf Coast. A few stories in coming weeks – real tight stories with summaries on the fishing, the food and other observations are forthcoming this month. It's a little difficult to pinpoint when stories will run right now, seeing as the fever of fly is taking over as I read about early bass staging on lakes – due to these strange conditions we are living through now. And there's the off-and-on fly fishing for huge sand bass and hybrid FISH FLASH, a phenomenon that can kick on-off on a moment's notice. Right now, it's obviously on.
Now that I can access those momma bass, staging deep, getting ready for spring, I figure it's time to see if we can reach them with a fly, don't you? This article by Lynn Burkhead – "As Waters Warm, Big Bass Season …," gives you some insight into what I think could be a good way to get through the work doldrums this month. All in all, it's a good time to THINK and PREPARE.

THINK
February, in North Texas, is still pretty much a "doldrum month" as we are relegated to hoping for some bad weather to hit on some Oklahoma trout. That option, this year, is now reduced to the Blue River as Beaver's Bend deals with reconstruction after more catastrophic floods. Yes, there's another option to the south and on the east side of that river, but I've been there (listen for banjos), and it was pretty wild and slippery.
So now's a good time to think about the conditions we'll be facing this spring, and think about new ways to pursue, and think about new locations to find fish. It's a bit difficult to even comprehend all the options opened up by a boat, but let's just say it's a big world.
PREPARE
I can tell you, these are good days for preparing for whatever the spring brings. Right now, that means tying plenty of flies. There's hardly anything better than having the THINK time while PREPARING with fresh flies, maybe some fresh colors, and fresh fly ideas. I can tell you, based on what I said earlier about fat bass deep, I am concentrating on deep bait patterns that have proven irresistible to bass in the past. We're also going to have to come up with some adaptations for our carp flies this year. They're going to have to sink deeper than in springs past, without a huge spooky splashdown presentation.
[/ppw]Go figure …
Category: Body-Mind-Soul, Culture on the Skids, Fly Tying