fly fishing in texas
WATER WEDNESDAY

It's a big blue blob on the google map. And it was well within striking distance from where we were staying at the Old Chicken Farm Art Center in San Angelo, Texas, last weekend. I was ready to drive a few more miles Friday, so I asked about the blue blob known as O.C. Fisher Reservoir. "Oh, you mean the lake that burned?" she said. "It's dry, and they had a brush fire out there awhile back," she continued. This I had to see.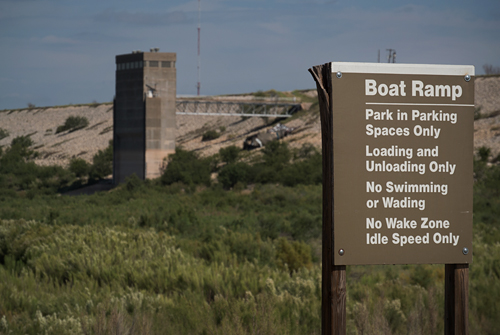 When I got to the office at the gate, in the middle of cactus and mesquite, I had yet to see anyone else on the road in, road out, anywhere. This guy is manning an outpost that makes Costner, in "Dances with Wolves," look like he was stationed in Lower Manhattan.
"The lake is .01 percent full," he quoted to me, probably for the millionth time. "Okay, I guess you better tell me where I can see that .01 percent," I tried to make light of the situation, "I mean this is a pretty big place." "Your best chance is to go to the boat ramp straight ahead at the end of this road," he pointed. You would think I was looking for a pileated plumed dodo. The drive in took me through more cactus and mesquite, a nice almost new paved road that twisted and turned before finally opening up to the boat ramp.
READ MORE?

[display_podcast]
I was blown away. The ramp, as you can see in the slideshow, lead down to … more mesquite, cactus and gravel. The dam was from the movie "Planet of the Apes." Remember when Charlton Heston saw the Statue of Liberty buried in the beach sand? "Noooo! They finally did it!" Heston wails. The release gate building in the middle of the dam was run down, windows broken and parts fallen off laying on the dam.
My mind just cut to a mental image of Lake Ray Roberts dam. Both look about the same, and I could imagine this was Ray Roberts in 2016, and I could imagine this was one of those 26 reservoirs on tap … that will look just like this. About a mile, or a little more, off in the distance was a round pool of water – probably about the size of a city pond here in North Texas. A few native birds, the wind blowing through the mesquite forest, those where the only sounds.
And that's where I will leave it. Listen to the audio track if you like – although it is a bit weak at points.
Category: Science and Environmental, Texas Water Conservation