I couldn't believe it. It seems like only yesterday we were trudging through the flats at Lake Ray Roberts, like fleet of mudbugs, looking for carp, sweating our clothes until soaked, and consuming liters of water to combat the heat. Today, the wind is shifting to the north, and I can't help but think about how quick time passed, the carp season is all but over again.
Instead of doing the long run on the flats, I just cut to the chase and drop in at the end. I even wait to line up my rod since I don't know if carp are there to greet me or not. The water sends a chill as I step in almost tip toeing. It's just not right that seasons are so short. Now I have to think about trout, trout flies and locations. I have to think about saltwater winter fishing spots, and abandon the flats to old man winter.
I lined my rod. The carp are still there. I tied one of my "One Offs" on and was happily fighting a three pound carp in less than five minutes. There's nothing quite like starting at the end of the flat – icing on the cake.
The carp are skittish, the sun is too low in the sky, it's windy, the vegetation is just about gone and the water is chilly. Three energetic carp down and I want to switch gears. There's just enough difference between the mud of the flats and the hydrilla that remains to make for good largemouth ambush.
I remember the last venture to the flats, around the time of the tropical storm rains, included a "B movie" infestation of tiny frogs along the shoreline. I tie on a metal flake green popper with opposing froggy feet feather tail. About fifty feet offshore I target the edge of a long hydrilla patch.
On my second cast I see movement. One more pop of the popper which is displacing a gallon of water on every pop, and … what can I say but BOOM! A largemouth takes the popper on the rest stroke, and tries to streak back into the hydrilla. I take a little side pressure and the chunk goes airborne. There's just something about bass so fat they have difficulty clearing the water – I just love their effort.
I finally land the brightly colored fish and take a picture. I wonder if this will go on a little longer, catching largemouth on the flats, or should I say goodbye to them too. I'm trying to figure out how to keep this road going on forever and the party from ever ending. I recall part of fly fishing is changing with the seasons, going from one species to another species, and changing locations, and flies, and gear, and …
I have caught carp every month since April, and this seems like the year where I try to string together twelve months of catching carp whether they turn into winter logs or not. So that challenge is in front of me. I've seen throw-downs (challenges) from guys saying they want to see snow caught carp photographs. I think it's impossible, but it does qualify as a serious challenge.
On the way home, the north wind is kicking up, and I start trying to remember what keeps the fall and winter livable. North Texas can be mild late or brutal early when it comes to weather. There are plenty of fly ways to take advantage of it too. Seventeen degrees and snow at the Blue River in Oklahoma, or saltwater species that pop up in the dead of winter as well.
At least I don't have to think about the non-existent air conditioner in the Land Cruiser for a couple more seasons. I sure wish the heater was working though.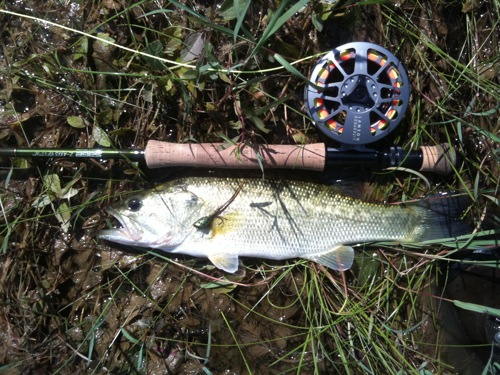 Category: Fishing Reports, North Texas