a photograph worth a thousand words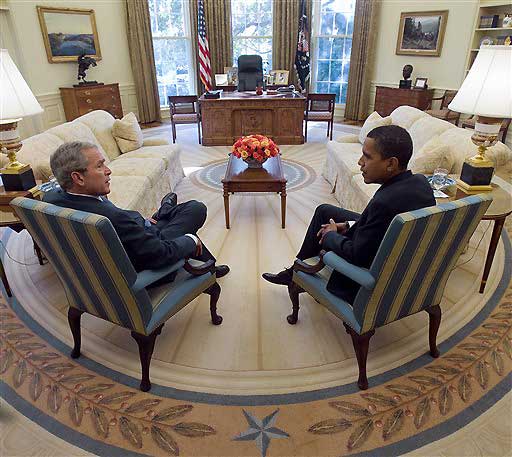 AP Photo.
Very rarely does a single image depict so many things in such a powerful, and concise way. Today's lead image, a photograph of President George Bush and President Elect Barack Obama in the Oval Office is one that should be studied for all its meaning.
For a photographer, the first thing I noticed is the extreme wide angle that creates a super distortion of the horizon lines. The Oval Office in all its "Ovalness".
Second is the subtle reversal – Bush on the left and Obama on the right. It again makes the outside photographer wonder if that is Bush's regular spot, or if it just a random asynchronous happening.
Third, and most revealing, is the distorted wide and oval effect give the sense, the visual sense, of being inside a bubble. Now, it's a new president's turn to enter the bubble. The old one, beaten down, slips out through a slit in the bubble, and fades to grey. History inside the bubble. Now we start to see what we have from all sides at once.
Category: Culture on the Skids, OFF TOPIC, Photography