This is part one of two parts on taxidermist Josh Kelly who recreates fish for those fortunate few who may have caught a fish worth having on their walls. If the story seems familiar, it could be running in Lone Star Outdoor News right now, but we don't get that publication in Denton, and I prefer to read the paper version over the online version.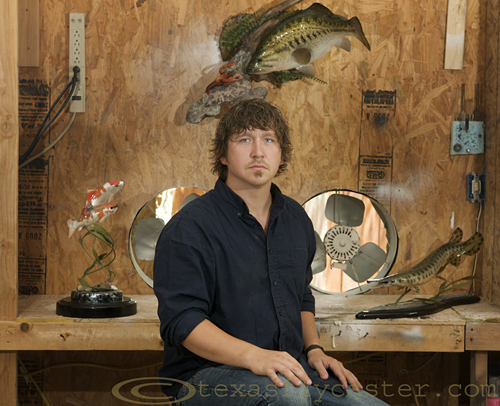 You may not know him, but in taxidermist circles he's known as a "Black Knight". His name is Josh Kelly, and the young taxidermist from Rockwall, Texas, is making waves in the increasingly artistic world of fish taxidermy.
Organized competitions between taxidermists are one of the measures of their creativity, and according to Josh's father, Ron Kelly, "A "Black Knight" is one of those guys that comes out of nowhere, an unknown, and they come in and win everything," changing the standards for creativity and artistic style.
The art of fish taxidermy has changed quite a bit since the old "fish on a board", and that's where artists like Josh have the advantage. "The rocks flow. The weeds flow. The base flows with it, like a fish in a current," Josh said.
Ron Kelly, Josh's Father, has been a full-time taxidermist since 1979 and remembers how he used to bring Josh into the studio to play while Dad worked. " He used to sit on my lap. I would give him an airbrush to play with, or a cardboard fish to paint … he was five or six," Ron said.
"By the time I was eleven I was working in the shop, and by the time I was sixteen, I was painting fish," Josh said. "Now, he's combining replicas with his contemporary art, and it's becoming the popular thing as Josh is beginning to set the standards," Ron said.
"I love the detailing and airbrushing, so I specialize in fish, and there aren't that many people out there who just do fish," Josh said. "I have a lot of abstract art around my house where I use airbrush, and I do art for restaurants and orders from places like Bass Pro," Josh said.
In The Black Knight Part 2 – More about Josh, as well as photographs of Josh and his work. You can find Josh at at 214-663-5299 and his web site Artistic Fish Designs.

Category: Life Observed, On The Road